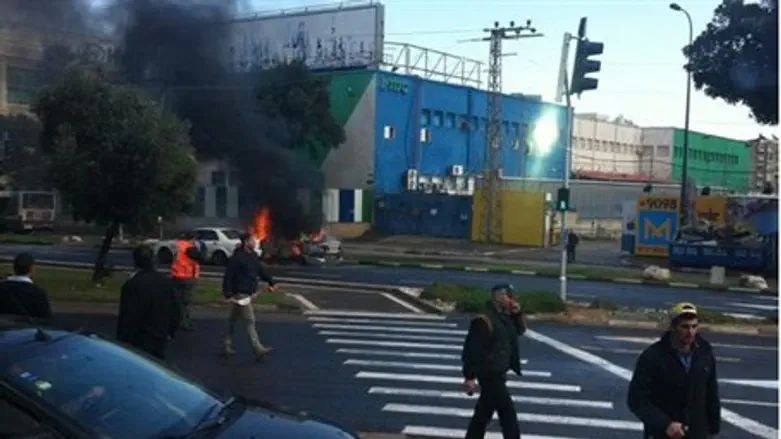 Scene of the attack
Tal Mizrachi
A car exploded Thursday afternoon near Defense Ministry headquarters in Tel Aviv. Nine people were injured in what police said was an attempt on the life of crime boss Nissim Alperon. It was the eighth attempt on his life, police said. All those hurt in the bombing sustained light injuries, and were treated at a nearby hospital.
Police said that eyewitnesses saw a man on a motorcycle attach an explosive device to a Mazda parked on the street. Shortly after, as an empty bus was passing by, the vehicle exploded. Police believe the explosion was an assassination attempt on Alperon, as the car belonged to a member of his family. "Apparently it is a criminal incident, a settling of accounts," police spokesman Micky Rosenfeld told AFP.
The explosion occurred at the corner of Menachem Begin and Shaul Hamelech Streets, a central intersection in Tel Aviv. In the immediate aftermath of the explosion, authorities closed the area to traffic, and workers in the Ministry headquarters, as well as in the nearby Azrieli center, were asked to stay inside their buildings as police began an investigation into the nature of the explosion. A terror alert for the area was lifted about a half hour later.
Shortly after, police arrested two suspects who were riding on motorbikes near Geha Interchance on suspicion that they were involved in the explosion. It is not clear that they are involved, though, and police are seeking two individuals whom they said were involved in the explosion. Witnesses also said they had seen Alperon himself fleeing the scene, and police are searching for him as well.
Police said that although they were pretty sure that the attack was an underworld "rubout" attempt, they could not say who or which criminal group was behind the attack. The most likely candidate is the family of Zeev Rosenshtein, another top figure in Israel's underworld and a rival for the Alperon family's alleged interests in gambling, protection, and other vices, but police said that Alperon had many disputes with many different interests, so without an in-depth investigation, it would be impossible to be sure.
Nissim Alperon is the "heir" to the title of top mobster in the family, after his brother, Yaakov, was killed in a bomb attack in Tel Aviv in 2008.
צילום: עוזי פרלמוטר,
צילום: עוזי פרלמוטר,
צילום: עוזי פרלמוטר,
צילום: עוזי פרלמוטר,
צילום: עוזי פרלמוטר,