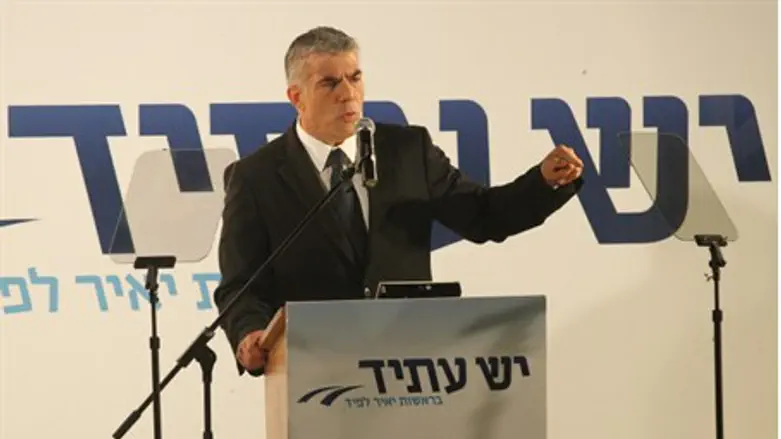 Yair Lapid
Flash 90
Yesh Atid Chairman Yair Lapid held a press conference Wednesday night during which he took jabs at Binyamin Netanyahu and Naftali Bennet while pledging to his supporters that equality of burden is the most important issue that his party will tackle in the upcoming government, regardless of who holds power.
Lapid said that the role of Yesh Atid in the next government would be to force PM Binyamin Netanyahu to address these issues, saying, "Netanyahu had an historic opportunity to enlist the Haredim and to get them into the job market and to make a real mark on Israeli society, and at the last moment he panicked and fled. Now we know that he prefers not to do anything, so much so that he needs to be forced. That is the role of Yesh Atid."
At the same time, Lapid took jabs at Jewish Home party's Naftali Bennett, who he accused of deceiving the secular Israeli public by using double-speak and manipulating his words, by promising that he will address equality of burden in regards to the enlistment of haredim in the IDF but then, "runs and whispers into the ears of the ultra-Orthodox rabbis that they should not worry, because he is referring to only those who do not learn Torah," said Lapid.
However, in an interview on Monday with the radio station Radio Kol Hai, Bennett made himself very clear when he said that his party would "fight against legislation which would coercively draft" yeshiva students.
"We will be a partner which will fight for Torah study in Israel, and we will fight against laws that coerce service," Bennett said. "Whoever is learning Torah should continue to learn Torah."
Bennett added, "I will support someone who is able to get up early in the morning to learn and sanctify their lives; there is nothing harder than this. Someone who does not, I expect him to join Israeli society."
Lapid also called on Labor Chairman Shelly Yacimovich to "stop avoiding the issue and stop saying that is not important. Is there anything more important than equality before the law and the question of how the Israeli society will look?".
Lapid added, "Do not tell us it's complicated. It's not complicated. Everyone should enlist. Either military service or civilian service., And they all need to study the core curriculum, and everyone should work. And no one should tell me this is an anti-Orthodox statement, this is not an anti-Orthodox statement. I'm not asking them to do anything I do not ask of my children or myself."
Likud reacted to Lapid's statements, saying, "We are pleased that Lapid identifies with the common agenda of Likud-Beytenu which worked to strengthen the youth and the soldiers and even doubled the grant money for soldiers released from the army. Moreover, since the expiration of the Tal Law (in August 2012), more than1600 ultra-Orthodox men have begun the recruitment process."
"If the subject of equal burden is really important to Lapid then it is better for him to stop cooperating with left-wing parties that support withdrawals and concessions to the Palestinian-Arabs and to concentrate on participating in promoting the agenda of equal burden with Likud-Beytenu. Only a strong and large Likud-Beytenu will make the implementation of policies regarding equal burden possible, by sending clear outlines  that every young man and woman of 18 will serve in the military or national service."