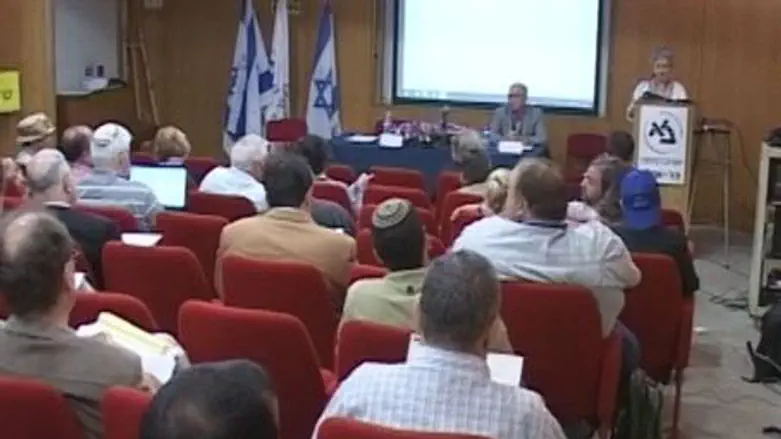 Bar-Ilan University
Yoni Kempinski
An innovative "Israel throughout the Year" curriculum five years in the making has been completed for schools in the United States and Canada by The Lookstein Center for Jewish Education at Bar-Ilan University, school officials said.
Responding to a need expressed by numerous educators in the U.S. about the lack of Israel education in Jewish schools, The Lookstein Center set out to develop a comprehensive, ready to use curriculum whose goal is informative and pedagogic in nature. Students in grades 1-8 who attend day schools and supplementary schools will now be able to learn in a fun and comprehensive way about Israeli history, geography, culture, tradition, democracy, leaders, the challenges it faces, and more, in just 16 modular lessons per year, Bar-Ilan said. Schools can choose to utilize either the colorful print or digital versions.
"We strove to ensure that all important topics that should be covered while teaching about Israel are included, and in an attractive, interesting and friendly manner," said Rabbi Yonah Fuld, the project's director at The Lookstein Center. "Having received positive feedback from educators, academics, school decision makers and teachers in the field who are already using the curriculum, we are confident in saying that all you could expect a Jewish child to know about Israel is included here. This is a 'must have' resource," he said.
"Rarely is a curriculum so attractive in presentation and thought out in content," says Rabbi Dr. David Hertzberg, Principal of the Yeshivah of Flatbush Middle Division in Brooklyn, New York. "The numerous facts, anecdotes and statistics of each unit blend together to create an inspiring whole. I am pleased that our students finally have an Israel curriculum designed with their needs and aspirations in mind, aimed at preparing them for their role as Zionists in the 21st century."
Rabbi Binyamin Krauss, Principal of SAR Academy in Riverdale, New York, said that "SAR Academy is delighted with the new Israel curriculum developed by The Lookstein Center. Connecting our students to Israel is central to the mission our school. This spiraled program fosters and deepens that connection through engaging discussions, important facts put into context, creative activities, and descriptive pictures and graphics."
The financial resources needed for the intense research, planning and writing of the curriculum were made possible thanks to the support of Evelyn and Dr. Shmuel Katz, of Bal Harbour, Florida, a Bar-Ilan spokesperson said. The curriculum is currently being offered to schools throughout North America with digitized, culturally adapted translations into Russian, Spanish and French are in the works.