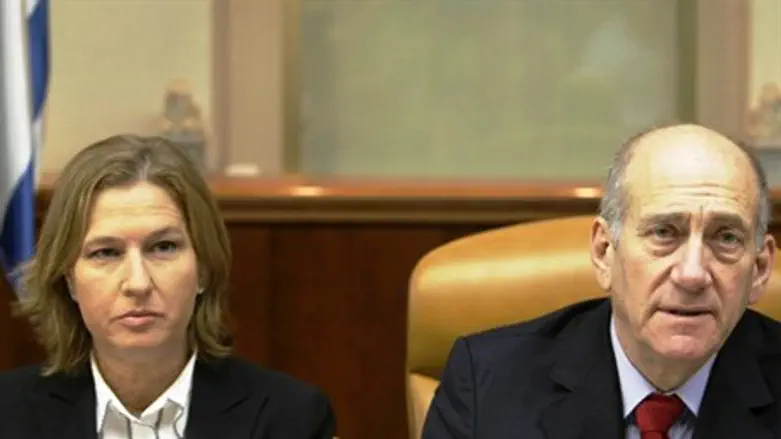 Olmert and Livni
Israel News Photo: Flash 90
After previously considering running in the elections with Tzipi Livni, former Prime Minister Ehud Olmert is now attacking his former Kadima colleague.
Channel 2 News reported on Sunday that Olmert, who participated in a Kadima event over the weekend, chose to slam Livni, who is running in the elections at the helm of a new party, Hatnua.
"Livni lost a crushing loss in the elections," Olmert was quoted as having said. "She lost because Kadima declined when she headed it. Her loss is due to the fact that members of the party lost faith in it."
Livni inherited the leadership of the Kadima party four years ago when Olmert quit after a string of criminal investigations made it impossible for him to continue at the helm.
In the elections three months later, Kadima won one more seat than the Likud, but failed to put together a majority coalition and Livni refused to join the coalition led by Prime Minister Binyamin Netanyahu.
Her lack of ideas and one-item agenda of attacking Netanyahu on every issue did not improve her standing, and she lost the Kadima leadership election to Shaul Mofaz, who has been left to lead the party into oblivion.
Olmert asserted during his remarks that "Shaul Mofaz did not defeat her by a majority of 25% or 27% because she succeeded in her role as leader of the opposition. She did not succeed."
The former prime minister, who faces an appeal by the prosecution over his light sentence and punishment after he was convicted of breach of trust, considered running with Livni in the upcoming elections, but when he took too long to decide about running, Livni chose to form her new party.
Olmert then decided to support Kadima and Mofaz, and was part of the committee that selected Kadima's list for the next Knesset.
All polls have predicted that Kadima will likely not pass the electoral threshold in the elections. Livni's party, meanwhile, has polled at nine or ten seats.