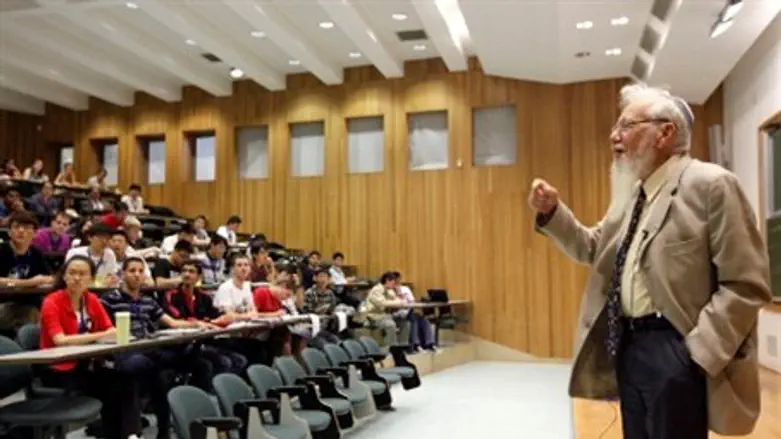 Prof. Aumann teaches 'summer camp' at Hebrew
Isrel news photo: Flash 90
The influential Council on Foreign Relations quotes Nobel Prize laureate Prof. Robert Aumann in a response to Britain, which claimed that a university in Samaria is an obstacle to peace.
Elliott Abrams posted a blog on the newly-crowned Ariel University on the website of the Council, considered the most important American political think tank, which also publishes the distinguished Foreign Affairs magazine.
Under the headline "Is Education a Threat to Peace?" Abrams noted that Ariel University, located in the central Samaria city of Ariel, "has the largest group of Ethiopian-born immigrant students of any university in Israel, and hundreds of Israeli Arab students."

It received university accreditation this month after years of opposition by left-wing organizations and other Israeli universities.
The British government warned that upgrading it to a university "will create another obstacle to peace" because it is located on land claimed by the Palestinian Authority for a future state. Since then, the Palestinian Authority has officially adopted on its logo a map showing the entire State of Israel as Arab "Palestine."
Abrams quoted Prof. Aumann, who told the BBC there was "a really strong need" for an upgraded institution in Ariel.
"I was very impressed by the quality of the place as an academic institution and I think Israel needs another university," said Aumann, a mathematician. "The last time when an additional university was added to the roster of Israeli universities was in 1972. At the time the population was three and a quarter million. The population of Israel today is almost eight million."
Abrams questioned British opposition to Ariel University.
He wrote, "Now, British opposition to settlement activity is well known, …but is it not stretching things more than a bit to call an upgrade from 'college' to 'university' an 'obstacle to peace?' If education is an obstacle to peace, how about ignorance, and prejudice?
"When the British reach out to criticize not just settlement activity but the change of status of a college to a university, when they insist on condemning improvements in what has been Israel's largest public college, when they ignore that institution's role in educating students who are immigrants, they betray a hostility that itself is an 'obstacle to peace.'"