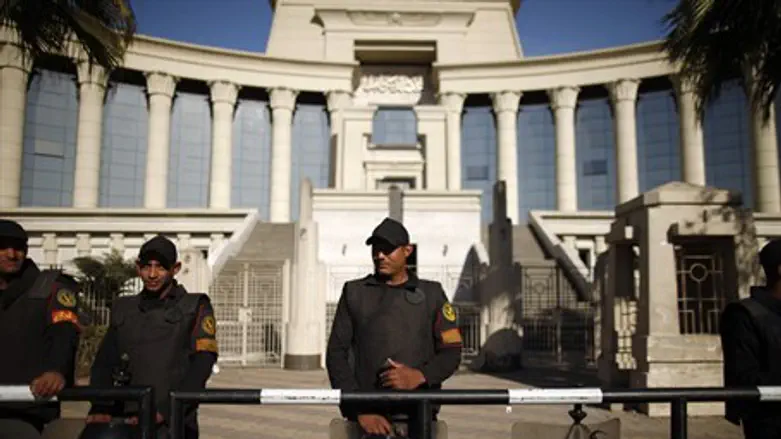 Policemen stand guard outside the constitutio
Reuters
Egypt's electoral commission confirmed on Tuesday that a controversial, Islamist-backed constitution was passed by 64 percent of voters, AFP reported.
The commission also rejected opposition allegations of polling fraud.
Samir Abul Maati, president of the national electoral commission, told a Cairo news conference that a total of 63.8 percent of valid ballots supported the new constitution. Turnout was 32.9 percent.
He said opposition allegations of fake judges supervising some of the polling were unfounded, but he did say results from a few polling stations were annulled because they closed early.
Those official results tallied with figures given by President Mohammed Morsi's Muslim Brotherhood immediately after the last round of polling at the weekend in the two-stage referendum.
"There is no loser in this referendum result. This constitution will be for all of us," Prime Minister Hisham Qandil said in a statement quoted by AFP. He called on "all political forces to cooperate with the government" to restore the economy.
The opposition reiterated its rejection of the result.
"The law will take its course after the official complaints we have made to the prosecution service over violations and fraud that have been noted," National Salvation Front spokesman Khaled Daoud told AFP.
The main opposition coalition, however, has already dismissed the plebiscite as "only one battle" and vowed to "continue the fight for the Egyptian people."
That sets the scene for continued instability after more than a month of protests, including clashes on December 5 that killed eight people and injured hundreds.
Washington called on Morsi to work to "bridge divisions."
"President Morsi... has a special responsibility to move forward in a way that recognizes the urgent need to bridge divisions, build trust, and broaden support for the political process," State Department spokesman Patrick Ventrell said in a statement quoted by AFP.
Many creditors, investors and tourists have abandoned Egypt because of the volatility that has prevailed since the early 2011 revolution that toppled former President Hosni Mubarak.
The International Monetary Fund this month put on hold a $4.8 billion loan Cairo needs to prevent a looming currency collapse.
The rating agency Standard and Poor's has downgraded Egypt's long-term credit rating one notch to 'B-' because the "elevated" political tensions show no sign of abating.
The opposition argues that the Muslim Brotherhood and Salafist groups want to use some of the charter's ambiguous language to slip in sharia-style strict Islamic law.
The text, written by a panel dominated by Islamists, has been criticized for weakening women's rights and other rights, including those of non-Muslims, by the opposition and by the UN human rights chief.
The Brotherhood counters that the constitution is a needed step to restoring stability.