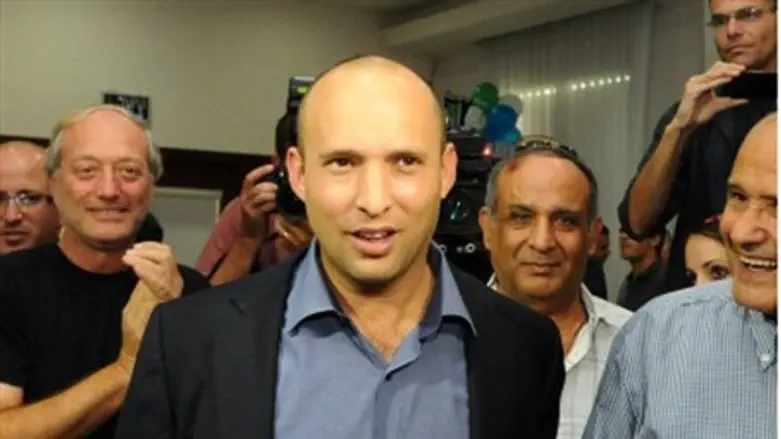 Naftali Bennett
Israel news photo: Flash 90
The weekend media storm over Naftali Bennett's position on how IDF soldiers should deal with orders to throw Jews out of their homes does not seem to have hurt the Bayit Yehudi chairman – and in fact, the party is doing better than ever. Several polls showed that Bayit Yehudi has pulled ahead of Shas, and with its 12-13 seats (depending on the poll), the party will be the third largest, after Labor and Likud-Yisrael Beiteinu.
Auguring the party's popularity is the fact that Naftali Bennett's Facebook page has now achieved 100,00 "likes," the seal of approval Facebook users grant to people and projects they favor. Of those, 12,000 were posted in just the past six days – indicating that Bennett is enjoying a surge of popularity that has not yet crested.
In fact, Bennett's Facebook page is the second most popular, in likes and views, among all Israeli politicians – bested only by Prime Minister Binyamin Netanyahu's page. After Bennett in popularity are Ahmed Tibi, Avigdor Lieberman, Shelly Yechimovich, and Yair Lapid.
According to the statistics released by Bayit Yehudi, some 4,000 people respond to each post Bennett puts up on his Facebook page. In addition, his Facebook mailbox is "stuffed" with messages from supporters and offers to help the Bayit Yehudi campaign. Over 1.1 million web users see content from Bennett's page each week, the statistics show.
In addition to the Facebook likes, Bennett is getting many more mentions in social media now, another important measure of popularity in the online world. According to social media evaluation service SpyTheNet, positive mentions of Bennett in social media have risen from 29% to 44%.
Meanwhile, numerous Likud MKs and activists have told Arutz Sheva that they are very uncomfortable with their party's recent attacks on Bennett. Speaking to Arutz Sheva correspondents who attended the Likud's festive campaign kickoff in Tel Aviv Tuesday night, Likud activists and MKs said they had attempted to temper the campaign against Bennett, which has gone into full gear in recent days. "It was a mistake to do this, even if Bennett gave Prime Minister Netanyahu ammunition by misspeaking on the refusing order issue," said one activist, adding that he hoped that Netanyahu had reconsidered his attacks on Bennett.