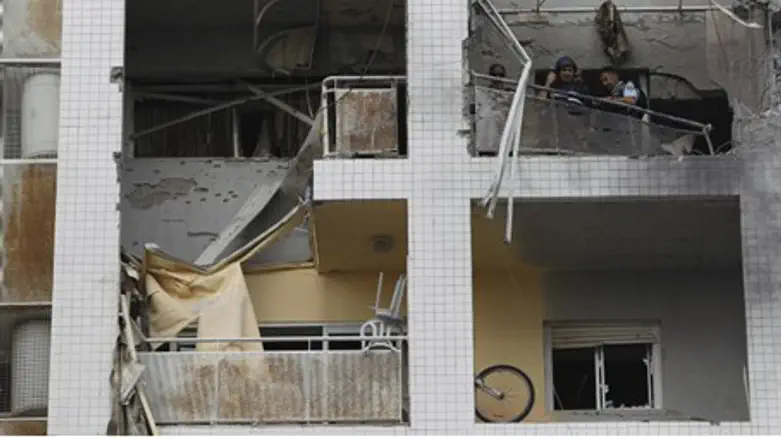 Rocket Damage in Ashdod
Flash 90
In a response to a Human Rights Watch (HRW) report which accused Hamas of war crimes against Israelis, the terror group has claimed it did not mean to harm innocent civilians.
HRW issued a rare condemnation of Gaza terrorists on Monday for war crimes, saying that "Palestinian armed groups made clear in their statements that harming civilians was their aim last month. There is simply no legal justification for launching rockets at populated areas."
Between November 14 and 21, Gaza terrorists fired approximately 1,500 missiles at Israel, and more than half of them exploded in Israel, including 60 in populated areas. More than 40 people were either killed or wounded, not including two Gaza Arabs who were killed by their own misfired rockets, Human Rights Watch said.
The organization "found that armed groups repeatedly fired rockets from densely populated areas, near homes, businesses, and a hotel, unnecessarily placing civilians in the vicinity at grave risk from Israeli counter-fire." 
HRW names the "armed groups" as Hamas, Islamic Jihad, and the Popular Resistance Committees' terrorist branches.
Hamas' so-called "military wing", the Al-Qassam Brigades, rejected the report on Monday
Abu Ubaidah, a spokesman for the Al-Qassam Brigades, said that the rocket attacks were in response to what he termed "the massacres performed by the Zionist enemy on the residents of Gaza, which hit peaceful citizens, homes and institutions that provide public services."
Abu Ubaidah also claimed that Hamas terrorists only directed the rockets at soldiers and military bases, claiming that "we do not have precise and advanced weaponry that can allow us to only hit military targets."
Meanwhile, the IDF Coordinator of Government Activities in the Territories (COGAT) said on Monday that Israel "targeted" Gaza civilians with humanitarian aid during the counterterrorist Pillar of Defense operation, at the same time Gaza terrorists committed war crimes by firing missiles on Israelis.
Throughout the eight-day missile war last month, COGAT's field representatives in Gaza worked with the IDF, other branches of the Israeli defense establishment, international organizations and governmental representatives in order to provide assistance for the needs of the civilian population in Gaza.
"While Hamas actively exploits and endangers their civilians, COGAT's activities are yet another example of the measures that Israel takes to minimize casualties and harm amongst that very same population," the IDF said.