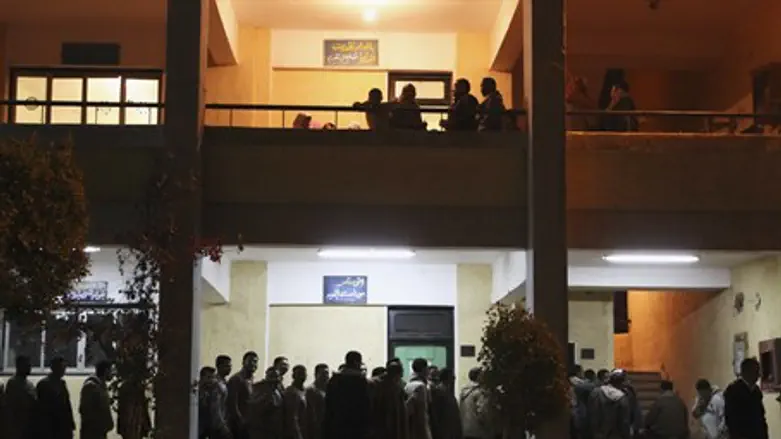 People queue outside a polling station the fi
Reuters
Egyptian Vice President Mahmud Mekki announced his resignation on Saturday, the day of a referendum on a new constitution that leaves unclear whether his position would be maintained.
In a statement obtained by AFP, Mekki said he was stepping down because "political work does not suit my professional character as a judge."
He said he had initially submitted his resignation on November 7, but delayed it until now because of a series of events, including the Israel-Hamas war in Gaza and a decision by President Mohammed Morsi last month to bolster his own powers.
"I saw that today (Saturday) was an appropriate time to announce my resignation as vice president of the republic, and I will continue to volunteer as a soldier," he said, according to AFP.
Mekki, 58, was a respected judge before Morsi named him to the vice presidency in August.
He led judicial opposition to ousted leader Hosni Mubarak, but eschewed calls to become a presidential candidate himself, saying he wished to stay politically independent.
Mekki had previously intimated to Egyptian media that he considered resigning.
His brother, Ahmed Mekki, is Morsi's justice minister.
Mahmud Mekki was only the second Egyptian vice president in more than 30 years.
Mubarak never filled the post during his three-decade tenure, until he named his intelligence chief, Omar Suleiman, to the job in February 2011, in the midst of the revolt that eventually toppled him.
Born in Alexandria in 1954, Mahmud Mekki studied at the country's police academy and is a former officer in the interior ministry, which he eventually left to join the judiciary.
Meanwhile on Saturday, reported AFP, polls closed in the final round of a referendum on a divisive new constitution championed by Morsi's Islamists.
Preliminary results on the charter, drafted by an Islamist-dominated council boycotted by liberals and Christians, were expected within hours.
Full official results will be released two days later, the electoral commission said.
On the eve of polling, clashes in Egypt's second city Alexandria injured 62 people as stone-throwing mobs torched vehicles, underlining the turmoil gripping the Arab world's most populous nation.
Eight people were killed and hundreds were injured in clashes between rival demonstrators on December 5 outside the presidential palace in Cairo.
Some 250,000 police and soldiers were deployed to provide security during the referendum. The army has also positioned tanks around the presidential palace since early this month.
The proposed charter was expected to be adopted after already garnering 57 percent support in the first round of the referendum a week ago.
The main opposition group, the National Salvation Front, alleged in a statement that ballot fraud had taken place since the polls opened, including reports of laymen posing as judges supposed to oversee the vote.
Rights groups say the charter limits the freedoms of religious minorities and women, while allowing the military, which retains considerable influence over politics, to try civilians it believes "harm" the army.
Morsi had to split voting over two successive Saturdays after more than half of Egypt's judges said they would not provide the statutory supervision of polling stations.
The key points of the controversial draft constitution are:

- Islam remains Egypt's official religion. The previous formulation that the "principles of sharia" are the main source of legislation is maintained.

However, these principles are broadened to include Sunni Muslim doctrinal interpretations.

- "Freedom of faith is guaranteed" -- but only for Islam, Christianity and Judaism, not for other religions.

- The president is limited to two consecutive four-year terms, not indefinitely as under Mubarak.

- The defense minister is chosen from within the military. Also, the military's budget will be decided by a committee dominated by military officers, effectively making it independent of civilian oversight.

 - Civilians will not be tried in military courts except in cases where the "crimes may harm the armed forces." The opposition and rights groups demand that this vaguely defined exception be removed.

- The charter upholds "the equality of citizens under the law without discrimination," but omits an explicit mention of equality of the sexes.

- Freedom of expression is protected -- except when it comes to "insults against physical persons" or "insults towards the prophets." Some fear those exceptions open the door to censorship.

- The state is the designated protector of "public morals and order."

- It is forbidden for Egypt to sign international treaties and conventions that go against the constitution.