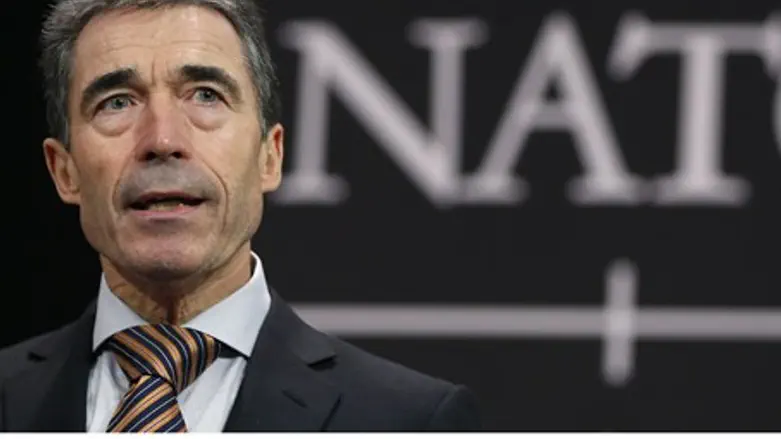 NATO Secretary General Anders Fogh Rasmussen
Reuters
The Syrian regime has fired Scud-style missiles at rebels, NATO said on Friday, according to an AFP report.
North Atlantic Treaty Organization chief Anders Fogh Rasmussen was quoted as having said the Syrian army's use of Scud-type missiles against rebels was an act of desperation.
"I can confirm that we have detected the launch of Scud-type missiles; we strongly regret that act," Rasmussen said. "I consider it an act of a desperate regime approaching collapse."
The latest launches were detected on Thursday, a source close to NATO told AFP.
A video uploaded to YouTube on Friday shows a Scud missile being fired from Damascus on December 13.
Last week, a U.S. official confirmed a New York Times story that the regime was unleashing Scuds on the rebels.
There has been no word of any casualties caused by the Soviet-era weapons, famously fired into Israel by Iraq's Saddam Hussein during the first Gulf War in 1991.
The unguided, short-range ballistic Scud missiles, depending on the type employed, have a range of 200 kilometers or more.
Meanwhile on Friday the violence raged in flashpoints across Syria, a day after at least 134 people were killed, among them 56 civilians.
According to a preliminary count, at least 82 people were killed on Friday. Despite the violence, protesters took to the streets in several anti-regime areas, renewing calls for the fall of President Bashar al-Assad's regime, the Britain-based Syrian Observatory for Human Rights told AFP.
On Thursday, Russian President Vladimir Putin denied his regime was propping up Assad and stressed that Moscow was only seeking to avert a perpetual civil war.
At the same time he made no call on Assad to step down and said it remained up to the Syrian people themselves to decide their future through peaceful talks.
(Arutz Sheva's North American Desk is keeping you updated until the start of Shabbat in New York. The time posted automatically on all Arutz Sheva articles, however, is Israeli time.)