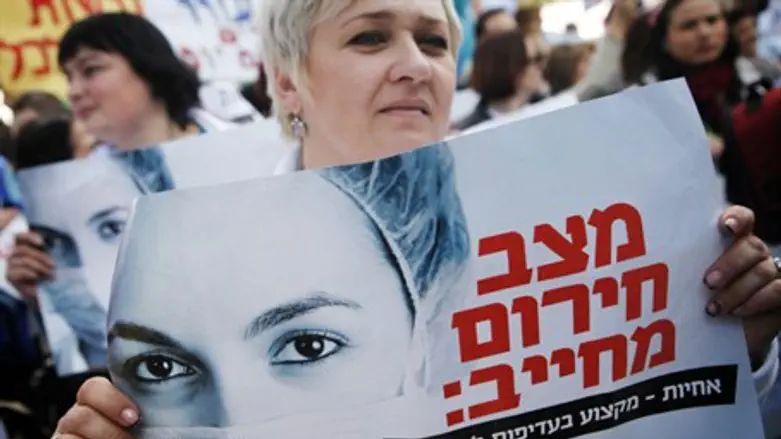 Nurses protest in Jerusalem
Flash 90
The 17-day-old nurses' strike in Israel ended on Wednesday night, as the Finance Ministry and the nurses' union finally reached an agreement.

The agreement, which was reached under the auspices of the National Labor Court and its president Justice Nili Arad, is expected to be signed within a few hours. The nurses will return to work as of Thursday morning.

Channel 2 News reported that according to the agreement, the nurses' salaries will increase by an amount ranging from 1,100 to 1,600 shekels. The agreement will be implemented over a period of four and a half years, a compromise between the nurses' demand of four years and the Treasury's demand of five.

"I welcome the agreement with the nurses' union," said the Finances Ministry's wages commissioner, Kobi Amsalem. "This agreement will encourage entry into the nursing profession and will bring a significant time period of peace and stability in the health system for the benefit of the patients."

The nurses went on strike on December 3, in protest over the lack of negotiations over a request to increase their salaries and to make nursing a "national priority" profession in order to attract more people to the profession.

Talks between the nurses' union and the government broke down several times over the past week, the last time being on Tuesday.

Nurse Leah Ofir-Pepperman told Arutz Sheva on Tuesday that strike is aimed at helping patients. "We aren't battling just for higher salaries, but primarily for working conditions," she explained. "Not for our own convenience, but for the sake of providing appropriate care to patients."

"Today there are more patients per nurse, and patients do not get the treatment they deserve," she warned. "I don't feel comfortable protesting here; I would prefer to take care of my patients today, but we have no choice but to fight for quality care for the patients."

"I want to remind everyone that all of us will eventually need health care, yesterday, today or tomorrow – our fight is for the entire nation," she concluded.