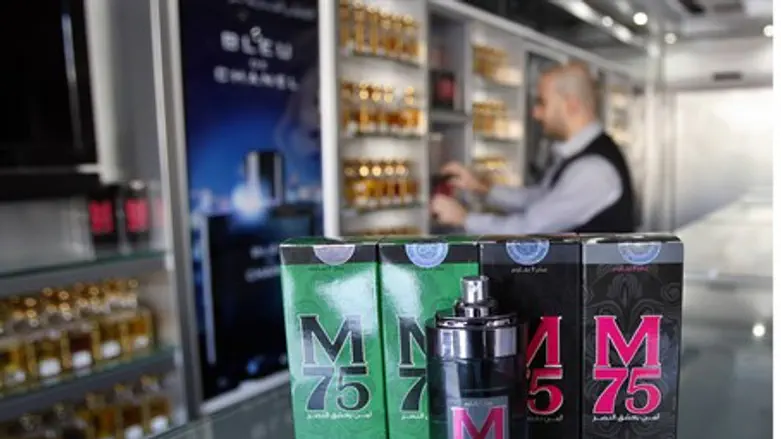 M75 perfume in Gaza City
Reuters
Sales continue to be brisk for the latest rage in perfume being sold in Gaza City, named for the newest missile that was aimed at Jerusalem, Tel Aviv and Rishon LeZion last month.
The perfume, called "M75," symbolizes the missile that targeted Israel's most populous – and holiest – cities, according to a vendor who spoke with AFP.
The "Stay Stylish" shop owner in Gaza City's upscale Rimal neighborhood, Abu Ahmed, said when he launched the product that he expected it to bring in a big return.
"We came up with the name M75 for a new perfume in the shop as a symbol of the rocket of the resistance, and the victory of Gaza," he said. "People are proud that we were able to hit Tel Aviv and Jerusalem with this M75 rocket and this name is much talked about and liked by people here."
The fragrance, available both for men and women, costs NIS 50 ($13, euros), which the manufacturers justified on the basis of the perfume's "luxurious" components -- secret, of course.
The M75 missile, unlike the Grad Katyusha, is produced locally in Gaza, using technology that was exported to the region by Iran.
The IDF launched the Pillar of Defense eight-day counter terror offensive last month to silence the rocket and mortar fire that was constantly being rained down on southern Israel.
The operation, which began with the assassination of the founder of the Izz a-Din al-Qassam military wing of Hamas, successfully eliminated hundreds of terror targets that included weapons factories and storage facilities. It ended with an Egyptian-brokered ceasefire.