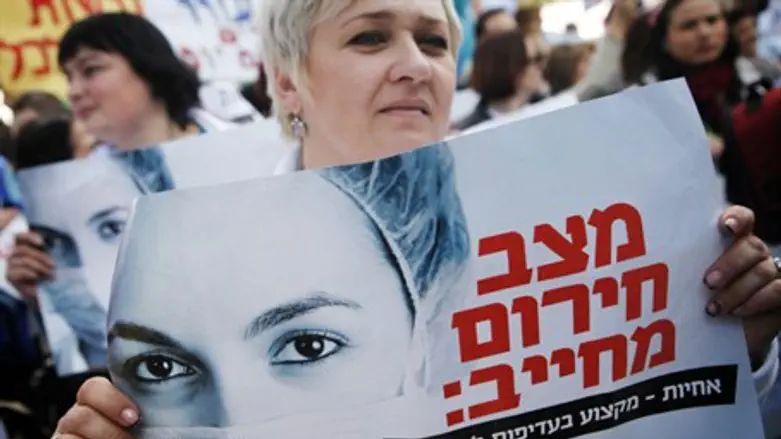 Nurses protest in Jerusalem
Flash 90
Negotiations between the Nurses' Union and the government broke down Tuesday, leaving the nurses to continue their strike for a third week.

"The Treasury is treating nurses like slaves, not like workers responsible for human life," accused Nurses' Union head Ilana Cohen.

"The serious shortage of nurses mandates an agreement that will provide an immediate solution to the crisis," she declared. "As long as the Treasury does not change its approach, the strike will continue."

Hundreds of nurses protested in Jerusalem on Monday, bearing signs calling to make nursing a national priority profession, as the union is demanding.

The nurses' strike is aimed at helping patients, nurse Leah Ofir-Pepperman told Arutz Sheva. "We aren't battling just for higher salaries, but primarily for working conditions," she explained. "Not for our own convenience, but for the sake of providing appropriate care to patients."

"Today there are more patients per nurse, and patients do not get the treatment they deserve," she warned. "I don't feel comfortable protesting here; I would prefer to take care of my patients today, but we have no choice but to fight for quality care for the patients."

"I want to remind everyone that all of us will eventually need health care, yesterday, today or tomorrow – our fight is for the entire nation," she concluded.