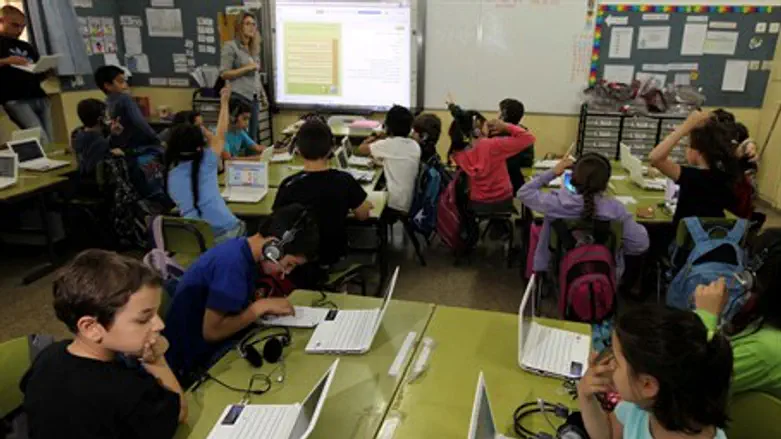 Students use computers (illustrative)
Israel news photo: Flash 90
The British government is planning to exclude Hebrew from its list of officially recognized languages for primary schools, in a move that could damage Jewish education in the country, the Jewish Chronicle (JC) reported.
Education Minister Elizabeth Truss announced plans last month to make it compulsory to teach a foreign language to children aged seven to eleven, thus requiring schools to offer at least one of only seven recognized languages, excluding Hebrew.
According to the newspaper, many Jewish primary schools, which have to fit in Jewish studies alongside the national curriculum, currently offer Hebrew as their only foreign language and would find it impossible to continue teaching it if they were compelled to offer another foreign language as well.
Laura Marks, the senior vice president of the Board of Deputies of British Jews, told the JC that the government proposal could be "extremely detrimental to our community's identity." Language, including modern and classical Hebrew, is "a vital ingredient to understanding our faith and culture," she said.
Marks urged the government "to reject the idea of stipulating just a narrow range of languages."
Four years ago, a Jewish Leadership Council report urged all Jewish schools to teach Hebrew and said that it was "disappointing" that some had preferred French as their foreign language.