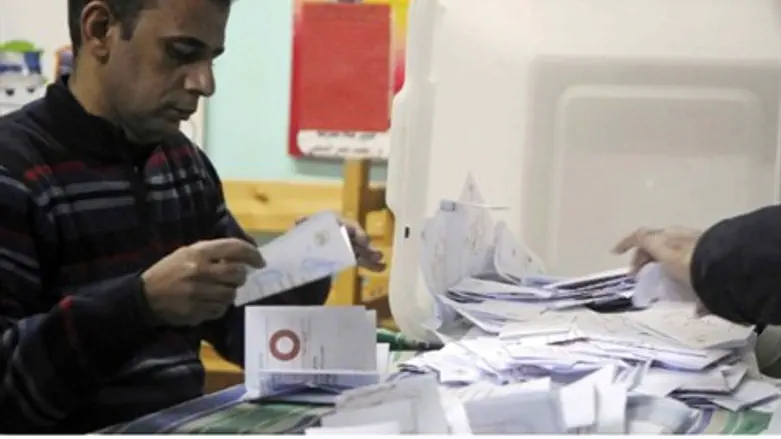 Counting votes in Egypt
Reuters
The Egyptian opposition demanded Sunday to annul the results of the first day of voting in the staggered national referendum on a new constitution, accusing the Muslim Brotherhood rigging the polls.
Almost 5,000 complaints of fraud have been filed thus far – and a second day of voting is still due to take place next Saturday.
The vote count thus far indicates that 56% of Egyptians voted in favor of the proposed constitution.
Half of the country's 51 million electorate voted Saturday, with the remainder doing so next Saturday, December 22.
Egypt's secular-leaning opposition has strongly protested against the proposed constitution, which it sees as a possible wedge to introduce sharia-style law, AFP reported.
Morsi's camp argues that the draft, drawn up by an Islamist-dominated panel, is needed to complete the transition from the 30-year regime of Hosni Mubarak, who was toppled in the revolution early last year.
The army has temporarily been given police powers to help ensure security, with 120,000 soldiers supporting 130,000 police.
Many judges have said they will not oversee the vote, forcing the split voting.
Key points of the controversial draft constitution:
- Islam remains Egypt's official religion. The previous formulation that the "principles of sharia" are the main source of legislation is maintained.
However, these principles are broadened to include Sunni Muslim doctrinal interpretations.
- "Freedom of faith is guaranteed" -- but only for Islam, Christianity and Judaism, not for other religions.
- The president is limited to two consecutive four-year terms, not indefinitely as under Mubarak.
- The defense minister is chosen from within the military. Also, the military's budget will be decided by a committee dominated by military officers, effectively making it independent of civilian oversight.
 - Civilians will not be tried in military courts except in cases where the "crimes may harm the armed forces." The opposition and rights groups demand that this vaguely defined exception be removed.
- The charter upholds "the equality of citizens under the law without discrimination," but omits an explicit mention of equality of the sexes.
- Freedom of expression is protected -- except when it comes to "insults against physical persons" or "insults towards the prophets." Some fear those exceptions open the door to censorship.
- The state is the designated protector of "public morals and order."
- It is forbidden for Egypt to sign international treaties and conventions that go against the constitution.