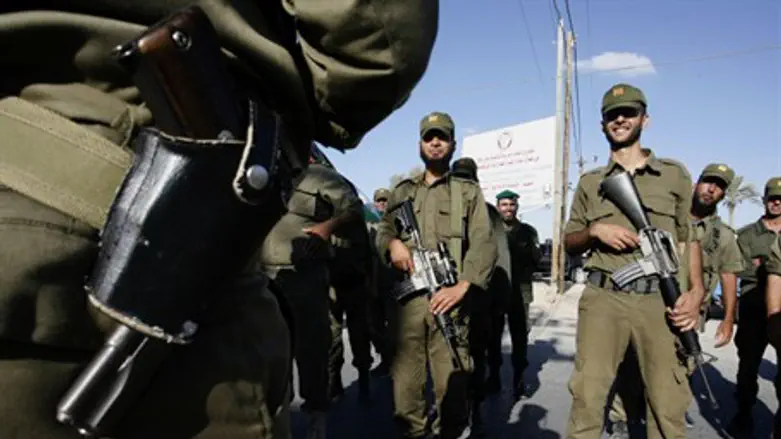 Hamas terrorists in Gaza
Flash 90
Iran is continuing to boast close relations with the terrorist organizations operating in Gaza.
A spokesman for Iran's Foreign Ministry said on Tuesday that the relations between Iran and both Hamas and the Islamic Jihad are better than they have ever been.
Speaking at a press conference and quoted by the Iranian Mehr news agency, the spokesman also claimed that the Western media is trying to drive a wedge between Iran and Hamas and Islamic Jihad, in the wake of what he claimed was the "defeat" Israel suffered in the recent conflict in Gaza.
He said that support for the struggle of the Arab people is a matter of principle for Iran.
During Israel's recent Operation Pillar of Defense, which targeted the terror infrastructure in Gaza, terrorists fired Iranian-made Fajr missiles at central Israel.
Iranian Parliament speaker Ali Larijani said during the operation that Iran had supplied military aid to Hamas, which controls Gaza since taking power in a bloody coup in 2007.
"We are proud to defend the people of Palestine and Hamas ... and that our assistance to them has been both financial and military," Larijani said.
Iran's Revolutionary Guards chief General Mohammad Ali Jafari also said that Tehran had provided the "technology" for the Fajr missiles used to target Tel Aviv, but denied supplying the actual weapons. He claimed they were being "rapidly produced" in Gaza.
Senior officials in both Hamas and the Islamic Jihad openly admitted that they had received support and assistance from Iran on both the financial and military levels.
This assistance included the transfer of weapons and rockets, information on development of rockets, and training of operatives.
Despite the dispute between the parties due to Iran's support for the Assad regime in Syria, Hamas and the Muslim Brotherhood continue to see Iran as a strategic ally against Israel.