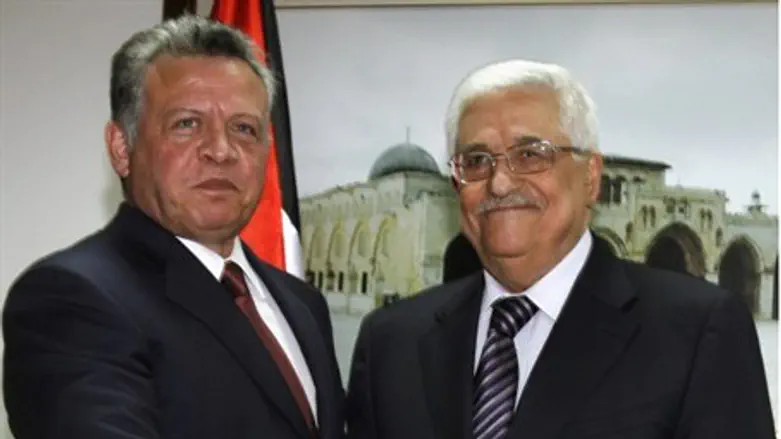 Abdullah and Abbas
Reuters
Jordan's King Abdullah II flew in to Ramallah on Thursday.
The monarch arrived by military helicopter from Jordan, landing at the presidential headquarters known as the Muqataa, where he was greeted by Palestinian Authority (PA) head Mahmud Abbas and other senior Palestinian officials.
"We and our Palestinian people and its leadership welcome this historic visit, which comes after Palestine became a (non-member) observer at the United Nations," presidential spokesman Nabil Abu Rudeina said in a statement carried on the official news agency WAFA.
The Palestinian Authority "highly appreciate the important role his majesty and Jordan played internationally and regionally and at the UN to achieve this important historical achievement," he said.
AFP said that the Jordanian king was welcomed by a military honor guard at the Muqataa, where Jordanian flags where raised alongside Palestinian ones. He was accompanied by a delegation including his Prime Minister Abdullah Nsur and Foreign Minister Nasser Judeh.
Judeh, in a joint press statement with his Palestinian Authority counterpart Riad al-Malki, slammed Israel's E1 construction project. "This would divide the West Bank into two parts," he said, adding that E1 was "at the heart of the principle of geographical continuity of the Palestinian state."
"Settlement policy as a principle is rejected not only by us as the Jordanian Hashemite kingdom, as Arabs and Muslims, but by the whole world," he added.
 Judeh praised the PA's UN bid, which will give it access to a range of international institutions, including potentially the International Criminal Court.
"We must be sure that the next phase will be a phase that leads us to negotiations that deal with all of the issues that we have mentioned, the final status issues, but within a timeframe," he added.