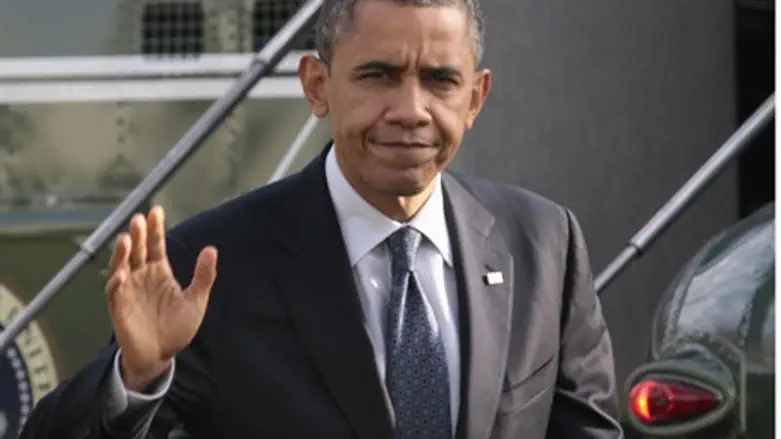 President Barack Obama
Reuters
U.S. President Barack Obama told Syria's President Bashar al-Assad Monday not to turn chemical weapons on his own people, following warnings that Assad's forces were mixing deadly sarin gas, AFP reported.
Obama publicly told the increasingly beleaguered Assad not to unleash the "worst weapons of the 20th Century" in the 21st, capping a day of alarming American warnings on the Syrian regime's intentions.
"Today, I want to make it absolutely clear to Assad and those under his command, the world is watching, the use of chemical weapons is and would be totally unacceptable," Obama said, according to AFP.
"If you make the tragic mistake of using these weapons, there will be consequences and you will be held accountable," he added.
An American official said earlier on Monday that engineers working for the Assad regime had begun combining the two chemical precursors needed to weaponize sarin gas.
Back in July, the Assad regime publicly warned that it might use its chemical weapons to stop "external" forces from interfering in Syria's bloody civil war. The announcement sparked a panic in the intelligence services of the U.S. and its allies, which stepped up their efforts to block shipments of precursors for those weapons from entering the country.
Several hours before Obama's warning on Monday, the Damascus government promised that it wouldn't use chemical weapons against its own people.
In a statement broadcast on government-run national television, the country's foreign ministry assured the international community that Assad would not approve such a measure.
"In response to the statements of the American Secretary of State, who warned Syria against using chemical weapons, Syria has stressed repeatedly that it will not use these types of weapons, if they were available, under any circumstances against its people," the statement said.
The statement came following one by U.S. Secretary of State Hillary Clinton, who said earlier in the day, "This is a red line for the United States. I'm not going to telegraph in any specifics what we would do in the event of credible evidence that the Assad regime has resorted to using chemical weapons against their own people. But suffice to say we are certainly planning to take action."
Israel has expressed concern that the chemical weapons arsenal maintained in Syria will indeed end up in the wrong hands – specifically, the hands of Hizbullah or other terrorists who aim to annihilate the Jewish State.
A report published Monday by The Atlantic indicated that Israel has consulted with Jordan twice over the issue of Syria's chemical weapons arsenal, both times with plans to take out multiple sites.