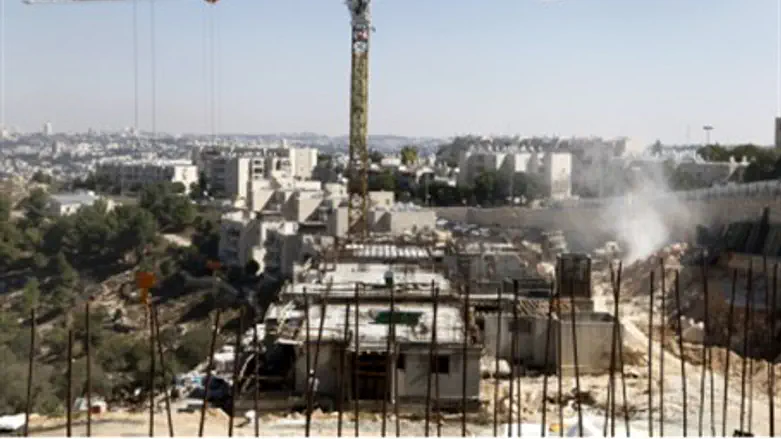 Gilo construction (file)
Israel news photo: Flash 90
Russia urged Israel on Monday to rethink its plans to build 3,000 more homes in Jerusalem, Judea and Samaria, saying the project risked harming the chances of reviving the peace process with the Palestinian Authority (PA). "The realization of the new large-scale settlement plans will negatively affect efforts to restart direct talks aimed at achieving a two-state solution of the Israeli-Palestinian conflict," the Russian foreign ministry said in a statement quoted by AFP.
The foreign ministry also said the Israeli decision not to transfer tax and tariff funds to the PA this month, in response to its successful bid for upgraded UN status, would weaken the economic and humanitarian situation in the PA.
"We are calling on the Israeli side to revisit its plans to expand settlement building and continue transferring the funds to the Palestinians," it said, adding the move would help "achieve fair and long-term peace" in the region.
In Paris, foreign ministry spokesman Philippe Lalliot said Israeli ambassador Yossi Gal had been summoned so France could express its "grave concern" over the construction plan.
"Construction in the E1 area would seriously undermine the two-state solution by isolating Jerusalem... from the West Bank and threatening the territorial contiguity and viability of a future Palestinian state," Lalliot said.
AFP reported that the Israeli embassy said Gal had "clarified the Israeli position by explaining that it was impossible to expect Israel to stand idly by after the unilateral Palestinian move at the UN."
Britain's Foreign Office said it had called in Ambassador Daniel Taub to express its concerns and urged Israel to reconsider the settlement plans.
"We deplore the recent Israeli government decision to build 3,000 new housing units and unfreeze development in the E1 block. This threatens the viability of the two-state solution," the Foreign Office said in a statement.
In an earlier statement, the Foreign Office said: "We have told the Israeli government that if they go ahead with their decision, then there will be a strong reaction."
Germany for its part said it was "deeply concerned" about the settlement plans but would not "for the moment" summon its ambassador to Berlin.
"We urge the Israeli government to reverse this announcement. Both sides should act constructively and avoid obstructing what is urgently needed, namely the resumption of substantial direct peace talks," government spokesman Steffen Seibert told a regular briefing.