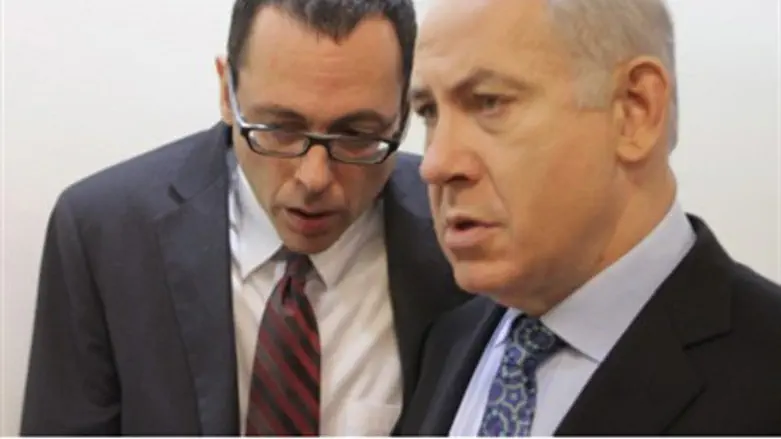 PM Netanyahu, Cabinet Secretary Tzvi Hauser
Israel news photo: Flash 90
The Palestinian Authority may win recognition from the UN General Assembly as an observer, non-voting state later Thursday, but the move will boomerang on the Authority, Israeli officials said. Speaking on Israel Radio Thursday, Deputy Foreign Minister Danny Ayalon said that the move would simply force Israel to demand more from the PA.
"If the Palestinian Authority wishes to be regarded like a state, it must act as one," he said. "That includes fulfilling all agreements. We will demand international guarantees from now on for any commitment the PA makes in any negotiations," Ayalon said, considering the poor record the PA has had fulfilling previous agreements.
Government Secretary General Tzvi Hauser told Israel Radio that the PA move will make a final settlement harder to achieve. "This moves breaks the rules of the game and will allow Israel to react in any way it deems necessary in order to protect its interests." Hauser stressed that any deal between Israel and PA needed to be made by direct negotiations, and that involving international bodies in the attempts to arrive at a settlement would not produce anything.
A government official, speaking on condition of anonymity, told Israel Radio that the General Assembly's declaration was "meaningless. This will be the third time the Palestinians have received symbolic recognition of a state from the General Assembly, after failing in the past to convince the Security Council to recognize them as a state. In addition, this move is a blatant violation of the agreements we have with the PA," the official said, and the Authority will eventually regret its latest ploy.