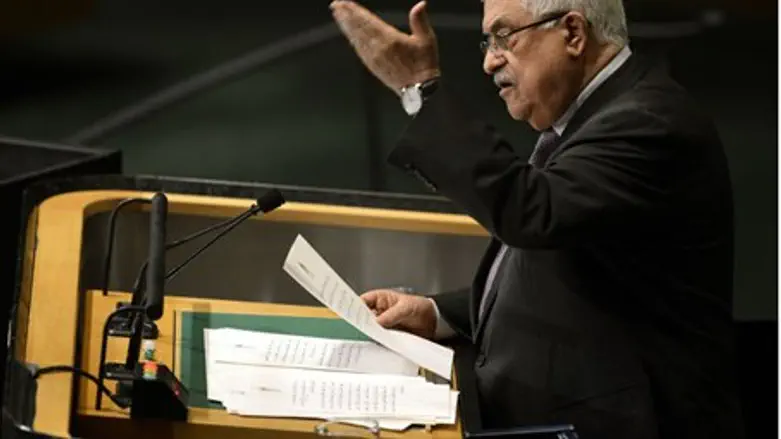 Abbas addresses UN Genearal Assembly
AFP/Timothy A. Clary
Palestinian Authority Chairman Mahmoud Abbas rejected on Wednesday last minute U.S. pressure to back off his unilateral statehood bid.
Abbas will make the case for "non-member observer state" status and indicate his conditions for talks with Israel in a speech to the UN General Assembly on Thursday, officials said, according to AFP.
He is guaranteed an overwhelming victory in the 193-nation assembly even though the United States and Israel fiercely oppose the move and other major powers have their doubts.
U.S. Deputy Secretary of State William Burns and Middle East envoy David Hale met with Abbas at his hotel on Wednesday, reported AFP, but failed to get him to withdraw his resolution or make amendments.
"It would be like changing my name," the PA's foreign minister Riyad al-Malki told reporters when asked if the entity would be ready to change its request to the United Nations.
"We went up to make one more try to make our views known to President Abbas and to urge him to reconsider," U.S. State Department spokeswoman Victoria Nuland said in Washington.
A host of ministers and top diplomats followed the U.S. officials in meetings ahead of the landmark vote, reported AFP. Abbas had lunch with Turkey's Foreign Minister Ahmet Davutoglu, who pledged his country's support.
After France announced it would vote in favor of the bid, Spain, Norway, Denmark and Switzerland also said they would follow.
Britain announced, however, that it would abstain unless the PA committed not to seek an International Criminal Court case against Israel and pledged an immediate return to negotiations with Israel. Germany said it would not support the resolution, but left open whether it would abstain or oppose the bid.
Senior Palestine Liberation Organization official Hanan Ashrawi said that Abbas has resisted "intensive pressure" to make concessions on the ICC. PA envoys have said Abbas will not rush to join the ICC but could use the court if Israel does not change its "attitude."
Nuland warned on Wednesday "that no one should be under any illusion that this resolution is going to produce the results that the Palestinians claim to seek, namely to have their own state, living in peace next to Israel."
Washington has warned Abbas he risks losing around $200 million in development aid which is currently blocked in the U.S. Congress.
A spokeswoman for the Israeli Foreign Ministry, meanwhile, said Israel would most likely not take any punitive measures unless the PA uses the upgrade "as a platform for confrontation".
"Israel's reaction to the Palestinian move depends on what they choose to do. If they use this resolution as a platform for confrontation, we will have to act accordingly," said the spokeswoman, Ilana Stein.
Army Radio reported on Wednesday that Israel had transferred money to the PA to pay its employees' salaries, despite recent threats by Foreign Minister Avigdor Lieberman that if the PA goes ahead with its statehood bid, he will work to ensure the entity collapses.
Finance Minister Yuval Steinitz, who has also threatened the PA with sanctions if it goes ahead with its bid, told Army Radio on Wednesday that Israel would respond to the move at the correct time and place.
"If the Palestinian Authority thinks it will attack us in the UN in such a harsh way and will continue to benefit from the cooperation with us, I think that some surprises await it," said Steinitz.