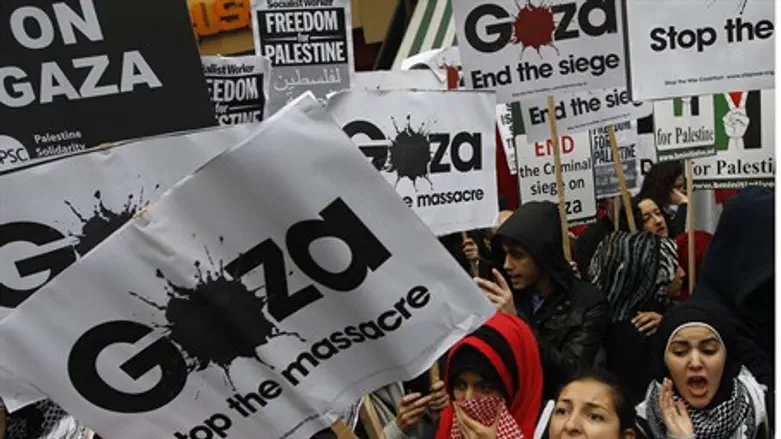 anti-Israel demonstrators outside Israeli emb
Reuters
Since the onset of the defensive Israeli military action in Gaza, which was aimed at stopping Hamas terrorists from launching incessant attacks against the Jewish state, more than 100 anti-Israel rallies and demonstrations have taken place across the United States, with more than one-third of the total taking place on college campuses, according to the Anti-Defamation League (ADL), which monitors anti-Israel groups and activity in the United States.
The anti-Israel demonstrations on campus have included extreme rhetoric, including messages supporting "resistance," comparisons of Israelis to Nazis, and accusations that the Jewish state is trying to perpetrate "another Holocaust" in Gaza.
According to ADL, during the campus demonstrations and on social media, some students and professors openly expressed support for the terrorist group Hamas, which controls Gaza, and for terrorism targeting Israeli civilians.
"The latest conflict between Israel and Hamas in Gaza has reignited anti-Israel passions on campus," said Abraham H. Foxman, ADL National Director.  "So much of the anti-Israel activity in response to the conflict has been student-driven, and this reinforces the significance of anti-Israel activity on college and university campuses."
In addition to the demonstrations, anti-Israel student groups are renewing calls for divestment from Israel in light of Israel's operation in Gaza.
ADL noted the increased popularity of the Students for Justice in Palestine organization, which arranged many of the protests on campus as well as several off-campus events in response to the Gaza crisis. The national student group issued a statement last week condemning the "Israeli aggression on Gaza" and blamed Israel for a "violation of its truce with Hamas." It often accuses Israel of "war crimes", "apartheid" and espouses hateful rhetoric and campaigns against the Jewish state.
ADL monitors anti-Israel activity on U.S. college campuses and has just issued a new report on the 2011-2012 academic year.
The report identifies numerous trends on campus, including, but not limited to, "pinkwashing" accusations against Israel; efforts to compare the Israeli-Arab conflict to the U.S.-Mexico border fence and comparing the plight of Arabs living in the country to that of U.S. immigrants. The report also cites the ongoing support for campaigns urging boycott, divestment and sanctions against Israel.
While a recent study by the American-Israeli Cooperative Enterprise found anti-Israel activity on only a small portion of college and university campuses, the events of the past few weeks demonstrate that anti-Israel activity on campuses cannot be overlooked, according to the ADL.
"Anti-Israel student groups will likely seek to capitalize on the momentum surrounding the Gaza conflict by pushing with renewed intensity their anti-Israel tactics and campaigns," Foxman said.