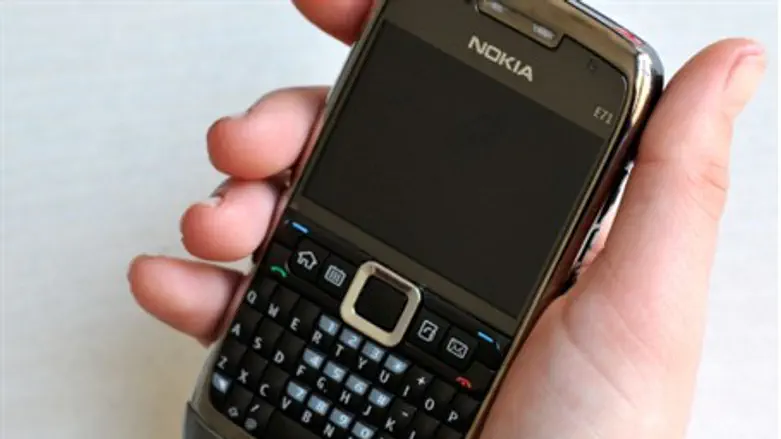 Cell phone costs skyrocket mysteriously
Israel news photo: Flash 90
Despite the drop in the costs of cell phone service, a Jerusalem attorney says the old adage of "buyer beware" still applies when dealing with the Orange mobile phone service. Attorney Saul Sackstein, an immigrant from South Africa, says that despite efforts by the government to cut through red tape and reduce the astronomical costs of cellphone service in Israel, the company has still managed somehow to work around the new laws.
Sackstein in general is busy fighting the games played by several of the larger companies, he says, warning that although Israeli consumers have benefited by the drop in the price of cell phone packages, it doesn't mean companies have become more honest about their dealings.
His latest challenge was a long, drawn-out battle with Orange, technically the brand name of mobile network operator, internet Wi-Fi and fixed telephony service provider Partner Communications Company Ltd. (TASE, Nasdaq PTNR). 
"It is not unusual these days to find all-inclusive packages which normally have hours of internet access, unlimited calls and SMS texting," Sackstein points out. "Many companies even offer overseas service to landlines, and even mobile service to North America for less than NIS 200 a month. But as a lawyer specializing in consumer issues, Sackstein raised an eyebrow when a long-standing client came to him with a bill from Orange – "the supposed elite of the local cellphone service providers," he notes wryly – totaling NIS 1,254.
"I am no expert on cellphone billing," the lawyer readily admits, "but I did have legitimate questions. Why, for example, was my client billed nearly NIS 300 for supposedly exceeding her 1 MB internet package, when 1 MB is usually marketed as 'sufficient for any regular person'? Why was she billed NIS 400 for overseas calls? How could the excessive internet use have apparently taken place on the very same day that my client phoned Orange and asked them to cancel her service? Perhaps the billing by Orange was legitimate, but so was my right to get some answers."
Sackstein wrote to the company – but the lawyer's letter was ignored. The attorney then paid a visit in person to the Orange offices in the Jerusalem neighborhood of Givat Shaul, bearing a Power of Attorney form signed by his client -- one used exclusively by Orange customers.
"On the face of it, the impression in the place is of course very professional," Sackstein says. "Free newspapers for those waiting, cold water dispenser, free sucking sweets – but the service? Blank stares and no answers from vague representatives barely out of their teens. No explanation about the bill, other than to say, 'Your client hasn't paid it yet! Contact our Finance Department.' I was amazed."
And so a second letter went out from the bemused attorney's office, this time to the Orange 'Finance Department' asking for a detailed explanation of the bill. Like the first, the letter was ignored. The lawyer then tested the issue further, turning to the Orange "chat line" where one  can raise issues with an online representative through the company website.
"But asking for a clear explanation of a phone bill seemed to be well beyond the Orange 'chat' representative's scope and ability. So what is this client to do?" Sackstein questions, more to the government than to the courts - which apparently have little or no power to force cell phone companies to cooperate in such matters.
"No real legal procedure exists which can force Orange to reply to my letters and acknowledge their client's existence," the attorney admits. "Furthermore, I am quite sure that it is a matter of days before this woman receives some lawyer's letter or claim for her unpaid, unexplained bill."
Ultimately, Sackstein advised his client to simply "pay the bill and then re-sue the amount in small claims court." The consumer attorney says that he will add on, of course, "an amount to cover all my wasted time and effort, and all the despair one feels as a miserable, ignored consumer."