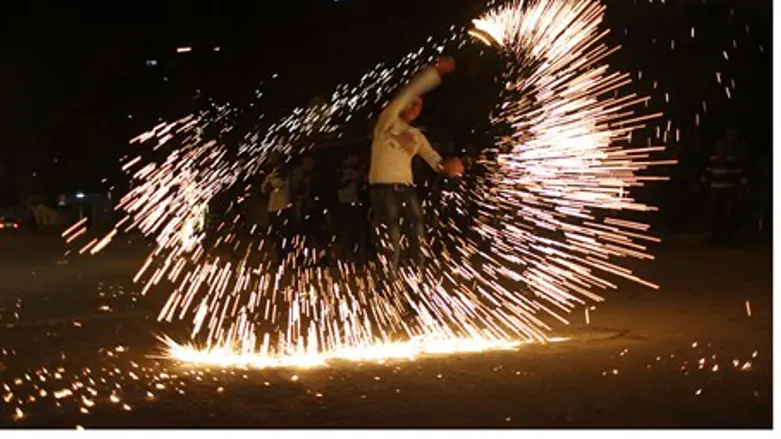 Arab boy celebrates Gaza "victory"
Reuters
The Hamas terrorist organization has declared November 22, the day after its ceasefire was signed with Israel, as a public holiday in Gaza.
"The Palestinian government announces that Thursday 22nd November is a national holiday of victory and an official holiday," read a statement issued by Hamas. Hamas invited "all citizens to celebrate this occasion and visit the families of the martyrs and the wounded and those affected by the violence and to affirm national solidarity."
Gaza shops reopened Thursday, some for the first time in a week, since the assassination by Israel of Izz a-Din al-Qassam leader Ahmed Jabari, the head of the Hamas military wing.
The IAF air strike that killed the top Hamas commander launched the 'Pillar of Defense' counter terror offensive against the terrorist organizations that for months rained an endless barrage of rocket fire on southern Israel.
For hours after the ceasefire between Gaza and Israel went into effect, Wednesday at 9:00 p.m., terrorists continued to fire missiles at Israeli communities, including the city of Be'er Sheva as well as towns along the Gaza border.
But by morning the skies were quiet, with the exception of noise from the mosques of Gaza. The Palestine News Network (PNN) reported the  mosques in Gaza City blared through their loudspeakers: 'Allahu Akbar (G-d is great), dear people of Gaza, you won. You have broken the arrogance of the Jews."