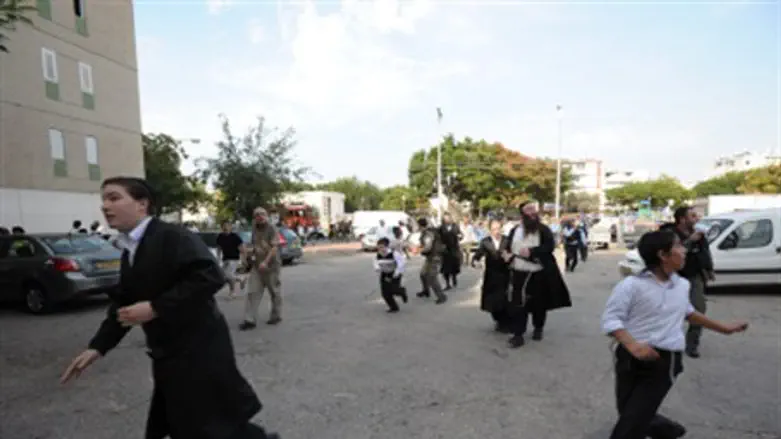 Running for shelter in Ashdod
Israel news photo: Flash 90
A trauma expert based in New York City this week responded in her own unique manner to the worldwide call by rabbis to add to acts of goodness and kindness as a protection for Israel's citizens and troops.
A specialist on trauma and abuse with clients in a number of countries, including Israel, Dr. Simone Gordon told Arutz Sheva in an interview Thursday that she was especially concerned by the impact of Israel's war with Gaza terrorists on those she serves.
Her own reaction on Wednesday, the eighth and final day of Israel's Operation 'Pillar of Defense' counter terror offensive against Gaza, came in a letter she sent by email to her clients in Israel:
"I am aware of the escalating violence that everyone in Israel is currently facing, and the impact of this ongoing and never ending trauma on people's lives, so as of today, November 21, I have decided not to bill for Skype therapy sessions until further notice. I am aware that during this period the increased likelihood of trauma symptoms, anxiety and depression is going to intensify, and I do not believe that at this time, clients need the extra burden of having to worry about financial worries in addition to the calling up of loved ones. Best regards."
Asked what had driven the move, Gordon said simply, "It was my way of giving to my clients who were under attack."
The response she received came almost instantaneously and surprised the seasoned therapist, who also serves as an expert witness in cases involving capital crimes being tried in the U.S. judicial system.
"The gratitude was enormous," she said. "I was shocked."
Wednesday's ceasefire agreement did nothing to change her decision, Gordon added. Because trauma symptoms are ongoing, she said, "I am extending this until the end of this calendar year, 2012."