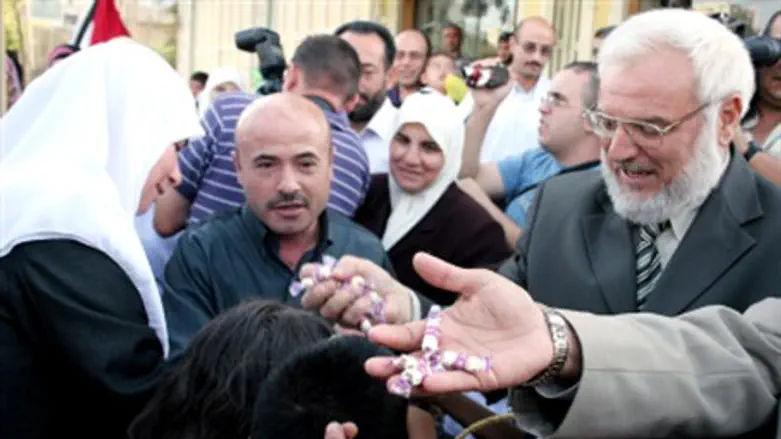 Hamas MP Aziz Dweik in Hevron
Israel news photo: Flash 90
Forty-three percent of Israelis think Israel should topple Hamas, according to a new survey by the Dahaf polling institute, and not just destroy its capability to launch rockets against Israel by killing terrorists and blowing up ammunition.

According to the survey, which was conducted for the Knesset Channel (Channel 99), only 39% of the public wants to negotiate with Hamas for a ceasefire.

The poll was conducted Monday, prior to a barrage of strikes Tuesday in which Hamas terrorists targeted southern and central Israel and the Jerusalem area, and wounded civilians in Ashdod, Ashkelon, Rishon Letzion and small southern towns.

The survey also found that 88% of Israelis believe Israel should invest in more Iron Dome batteries with the goal of providing coverage to the entire country. The Iron Dome system prevents rocket strikes by shooting down incoming projectiles, and has successfully shot down many of the rockets fired at major cities in recent days.

Thirty-nine percent said they believe current Defense Minister Ehud Barak is the person best suited to the position of Defense Minister. Nineteen percent said former CoS Minister Moshe "Bougie" Yaalon would be best suited, 9% voted for former Defense Minister Amir Peretz, and eight percent gave their support to Kadima head MK Shaul Mofaz.