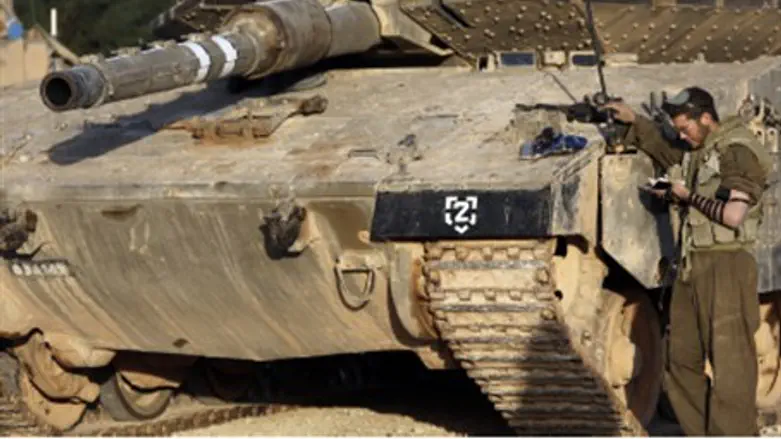 Tank soldier in prayer.
Israel news photo: Flash 90
Israel has delivered an ultimatum to Hamas through Egypt, according to which the IDF will widen its offensive in Gaza in 36 hours unless Hamas ceases firing rockets and smuggling arms into Gaza, IDF Radio reported Monday morning.
Finance Minister Yuval Steinitz told the station that the time left before Israel steps up its attack can be measured in "hours, not days."
"We are at a junction," he said. "Either we go toward a calm or toward a meaningful widening of the operation… including a possible move to achieve complete military decision."
There are ongoing contacts between Israel and Hamas through intermediaries, IDF Radio said, but the gaps between the sides are still very large. According to reports in Cairo, Hamas demands a complete removal of the blockade on Gaza, an IDF commitment to stop crossing the security fence into Gaza and a cessation of targeted killings.
Israel, for its part, demands that Hamas cease firing rockets into Israel for a period of "several years" and a cessation of arms smuggling into Gaza. Israel agrees to Hamas's demand that the Rafiah crossing into Egypt be opened, but refuses to open crossings into Israel.
Hamas official Moussa Abu Marzuk said that Hamas will not agree to Israel's demands for a "security belt" on Gaza's eastern side, and a cessation of smuggling through the tunnels.
Voice of Israel public radio quoted a senior source in Jerusalem as saying that the question of whether Egypt can broker a ceasefire will be resolved Monday. A senior minister said that Israel will have to agree to a certain relaxation of the blockade of Gaza in return for long-term quiet on the southern border.