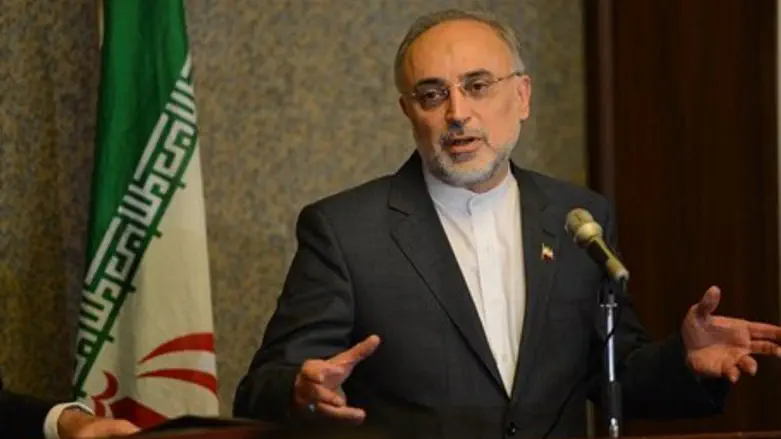 Iranian Foreign Minister Ali Akbar Salehi
AFP/File
Iran called on the United Nations and the European Union on Thursday to halt what it termed Israel's "barbaric offensive" in Gaza.
"Immediate and serious action by international (organizations) is needed to end the military campaign against the people of Gaza," Iran's Foreign Minister Ali Akbar Salehi said in a statement carried by the official IRNA news agency.
The call was made in separate letters to UN chief Ban Ki-moon, EU foreign policy chief Catherine Ashton and the Secretary General of the Organization of Islamic Cooperation Secretary General Ekmeleddin Ihsanoglu, IRNA reported.
Salehi said the security of the Middle East was at stake as Israel continued its Operation Pillar of Defense in Gaza.
He claimed that the "barbaric attacks have given rise to the possibility of Palestinians being massacred by the Zionist regime, as well as spread of insecurity and instability in the region."
Salehi did not mention the ongoing rocket attacks by Gaza-based terrorists on southern Israel. The rockets are provided to Hamas and other terrorist organizations by the Iranian regime.
Earlier, AFP reported, Salehi's spokesman Ramin Mehmanparast said the offensive amounted to "organized terrorism" in the face of what he called "silence of international organizations."
"Unfortunately the massacre of innocent and defenseless Palestinians has become a routine procedure adopted by the Zionist regime," Mehmanparast said, according to AFP.
He added that Iran "strongly condemns the criminal act of Zionist military forces in killing civilians."
Venezuelan President Hugo Chavez, a close ally of Iran and Hamas, also slammed the IDF operation on Thursday as an act of savagery.
"Another savage aggression against the Gaza Strip has begun. Once again, the state of Israel is bombing the Gaza Strip," Chavez told a cabinet meeting televised by state-run TV. Venezuela broke off relations with Israel in 2009 during Operation Cast Lead.
The United States has given Israel the green light to go ahead with the operation. President Barack Obama spoke to Prime Minister Binyamin Netanyahu early Thursday. A White House statement said that "the President reiterated to Prime Minister Netanyahu the United States' support for Israel's right to self defense in light of the barrage of rocket attacks being launched from Gaza against Israeli civilians. The President urged Prime Minister Netanyahu to make every effort to avoid civilian casualties."
The statement said Obama and Netanyahu agreed that Hamas needed to stop attacks on Israel to "allow the situation to de-escalate."
U.S. Defense Secretary Leon Panetta spoke with Israeli Defense Minister Ehud Barak this week about the latest Israeli military moves in Gaza and also expressed the U.S. view that Israel has the right to defend itself.
Since the beginning of Operation Pillar of Defense, the IDF has struck more than 300 targets throughout Gaza, according to a statement released by the IDF Spokesperson's Unit on Thursday.
On Thursday evening, the IAF launched a second assault wave on Gaza, targeting 70 underground missile sites.