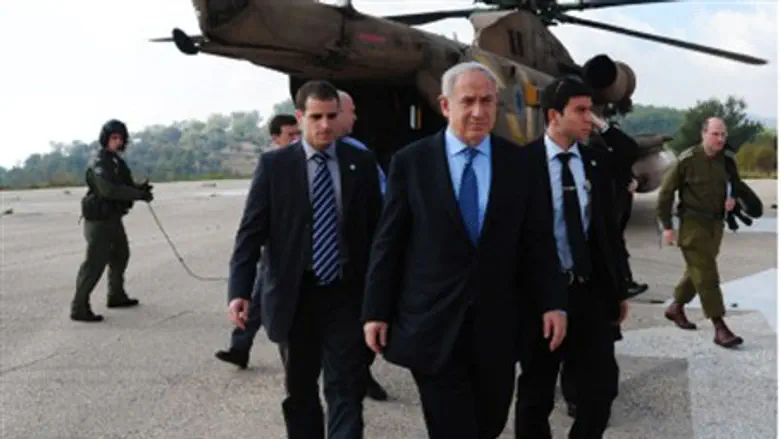 Binyamin Netanyahu
Israel news photo: Flash 90
So far, the world's leaders seem to be backing Israel's defensive action in Gaza. U.S. President Barack H. Obama and EU Foreign Policy chief Katherine Ashton both expressed understanding, if not support, for Israel's situation, and for the need to break the back of Hamas and other Gaza terror groups that have rained thousands of rockets over the heads of Israelis in the Negev for the past decade.
Prime Minister Binyamin Netanyahu spoke to Obama early Thursday, in which "the President reiterated to Prime Minister Netanyahu the United States' support for Israel's right to self defense in light of the barrage of rocket attacks being launched from Gaza against Israeli civilians," a White House statement said. "The President urged Prime Minister Netanyahu to make every effort to avoid civilian casualties."
The statement said Obama and Netanyahu agreed that Hamas needed to stop attacks on Israel to "allow the situation to de-escalate." Obama and Netanyahu spoke after the Israeli leader, who has had a rocky relationship with the current US administration, briefed Vice President Joe Biden on the latest events in Gaza.
Obama also spoke with Egyptian leader Mohammed Morsi, stressing Egyp's "central role in preserving regional security," the White House said. "In their conversation, President Obama condemned the rocket fire from Gaza into Israel and reiterated Israel's right to self-defense," the White House statement said.
The UN Security Council, at an emergency closed session, discussed the situation in Gaza without coming to any decisions. But during the meeting, U.S. Ambassador to the UN strongly defended Israel, saying that said there was no justification for the violence that "Hamas and other terrorist organizations" are aiming at Israel.
"We call on those responsible to stop these cowardly acts immediately," Rice said, adding that the rocket attacks were harming efforts to end the Middle East conflict and create a PA state. "Hamas claims to have the best interests of the Palestinian people at heart, yet it continues to engage in violence that does nothing but set back the Palestinian cause," said the US ambassador, who is considered a frontrunner to become the next US secretary of state. "Attacking Israel on a near daily basis does nothing to help Palestinians in Gaza nor to move the Palestinian people any closer to achieving self determination and independence," Rice said.