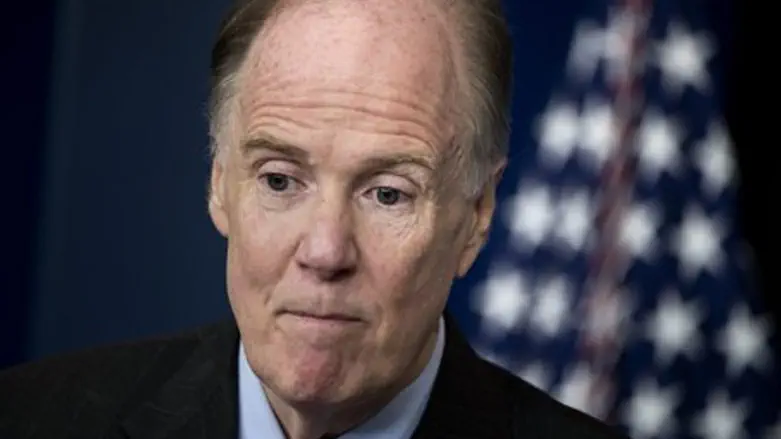 Tom Donilon
AFP/File
President Barack Obama's national security advisor met on Monday with his Israeli counterpart at the White House for talks on the conflict in Syria and Iran's nuclear program, officials said, according to a report in AFP.
The meeting was the first high-level dialogue between U.S. and Israeli officials at the White House since Obama was re-elected on November 6, and it was held at a time when tensions between Israel and both Syria and Gaza are rising.
"National Security Advisor Tom Donilon hosted a delegation of senior Israeli officials on November 12 for consultations on Iran, Syria, and a range of other regional security issues," Donilon's spokesman Tommy Vietor said, according to the AFP report.
The Israeli delegation was led by Yaakov Amidror, the head of Israel's National Security Council.
The meetings "were the latest in a series of regular, high-level consultations between the United States and Israel, consistent with our strong bilateral partnership, and part of our unshakeable commitment to Israel's security," Vietor said in a statement.
The delegations met hours after a mortar shell from Syria landed in the Golan Heights on Monday, prompting the IDF to return fire for the second time in two days.
An Israeli security source confirmed that troops had returned fire after a mortar round from Syria hit an Israeli position in the central sector of the strategic plateau, causing no casualties or damage.
The exchange came just hours after an appeal for restraint from all sides by UN chief Ban Ki-moon.
Also on Monday, the war in southern Israel continued. In the afternoon, a Grad missile fired by Gaza Arab terrorists exploded next to a factory in the industrial zone of Netivot. Six people suffered from shock as a result of the attack. Witnesses said that there was a great deal of damage to the structure.
This was the second attack on the city Monday; earlier, a rocket fired at the city exploded in a residential neighborhood. That rocket caused a great deal of damage, gutting a shop near where the rocket exploded. 26 people were treated by medical personnel after going into shock, with some needing extensive treatment at a trauma center.
Gaza-based terrorists agreed on Monday evening to accept an Egyptian initiative for a ceasefire, but blamed Israel as always and conditioned the ceasefire on Israel stopping what they termed its "continued aggression in Gaza".