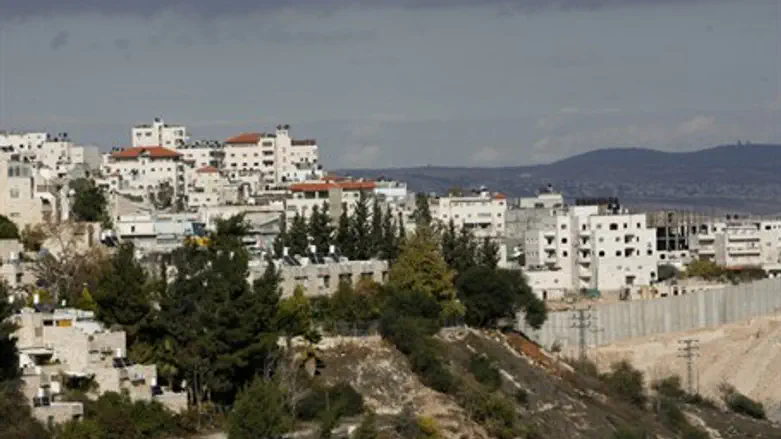 French Hill
Flash90
An Arab terrorist attacked and stabbed an Israeli woman in her 30s during an attempted carjacking in the French Hill neighborhood of Jerusalem Sunday afternoon. The woman was taken to Hadassah Mt. Scopus Hospital for treatment. Doctors said she suffered light wounds, and would likely be released later Sunday.
The incident occurred outside the Jinogli school in French Hill. Witnesses told Arutz Sheva that the woman was sitting in a vehicle with two children, waiting for her husband, who was finishing up a meeting inside the building. A man who appeared to be an Arab forcibly wrenched open the driver's side door and stabbed the woman in the face, in an apparent effort to steal the car.
Police opened an investigation and are searching for the culprit.
The incident was the latest in a series that have rocked the neighborhood. Last Wednesday, two vehicles were set on fire in the Jerusalem neighborhood. Police said that all evidence points to "nationalistic motives" in the incident, a euphemism for terrorism. The cars were badly damaged. There were no injuries in the attack. Police said that arsonists threw flammable material at the vehicles and them set them on fire. Police opened an investigation, but have not arrested any suspects yet.
French Hill is a mostly Jewish neighborhood in the northeast part of Jerusalem, and is home to many students from the nearby Hebrew University campus, who rent apartments in the neighborhood. In recent years, several Arab families have bought homes in the neighborhood -so as to make sure they are in Israel in case an agreement is signed to give up territory - often to the chagrin of residents, who fear that that even if the homeowners are law-abiding, Arab terrorists from nearby villages could use the French Hill Arab residents' as a "cover" to get into the neighborhood and carry out terror attacks.