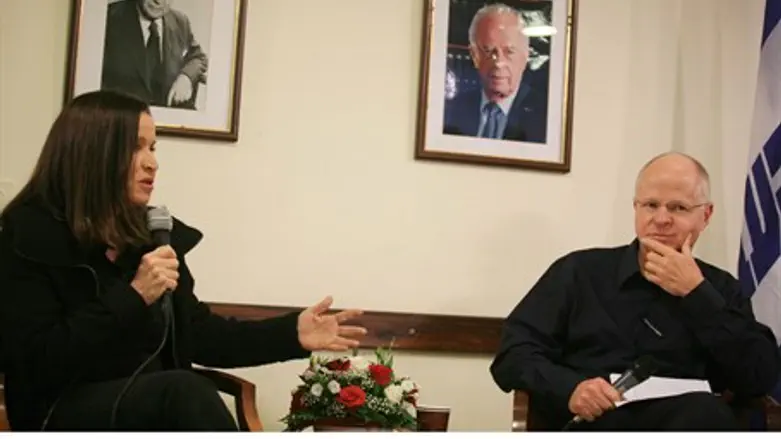 Noam Shalit and Labor leader Shelly Yechimovi
Flash 90
Noam Shalit, father of kidnapped soldier Gilad Shalit, is asking the members of the Labor party to support his bid for a spot on the party's Knesset list because he gained experience in a public struggle and can now "replace the bad government." He was referring to the same government that freed his son in exchange for more than 1,000 terrorists.
In a letter by Shalit that has been circulated among Labor members in recent weeks, Shalit noted that he has been a member of the Labor party for many years, and has become an active member since the 1995 assassination of Prime Minister Yitzchak Rabin.
Shalit wrote in the letter that he was exposed to the power of the political system during his five-year struggle to bring about his son's freedom.
"I bring with me to politics the experience I gained during my public campaign in the face of the political system in Israel and abroad," wrote Shalit and added, "This is all in order to achieve the goal of replacing this bad government with a Labor-led government."
Shalit announced in January that he intends to run for a spot on the Labor party's Knesset list, and was accused of being ungrateful towards the Likud-led government that worked to free his son.
In February, Shalit was verbally attacked by activists who spoke out against the deal Israel signed with Hamas to free Gilad. The confrontation took place during a panel at the 9th Jerusalem Conference, sponsored by the Besheva magazine.
Meir Indor, who heads the Almagor Terror Victims' Organization and was one of those who criticized Shalit, later explained to Arutz Sheva why he chose to attack Shalit at the panel.
"We gave them a lot of respect so long as his son was in Hamas' hands, but once he decided to go into politics and he's carrying the flag of releasing terrorists, we decided to stop giving respect and tell Israeli society that this man, in our eyes, serves Hamas' agenda," said Indor.
"The victims of terror feel that this man is making a career on account of their sacrifice," he added. "He talked about the leaders on one hand, but on the other hand he said he was against making rules for the next kidnapping. He said that in the Knesset. So his platform will be that when the next soldier is kidnapped, he can't say to the next family that they can't get what he got."
Fifteen terrorists released in the Shalit deal have since been rearrested, a senior IDF source in the Judea and Samaria Division said last month.
In September, after a terrorist who was freed in the deal was arrested for further terror-related crimes, MK Danny Danon (Likud) called on security forces to re-arrest the freed terrorists.
"Those terrorists signed a document in which they committed not to return to terrorist activity, but they forget their promises the minute they step off the bus," he said. "That's why I hope the military catches them, alive or dead, and does not let them continue to walk free."