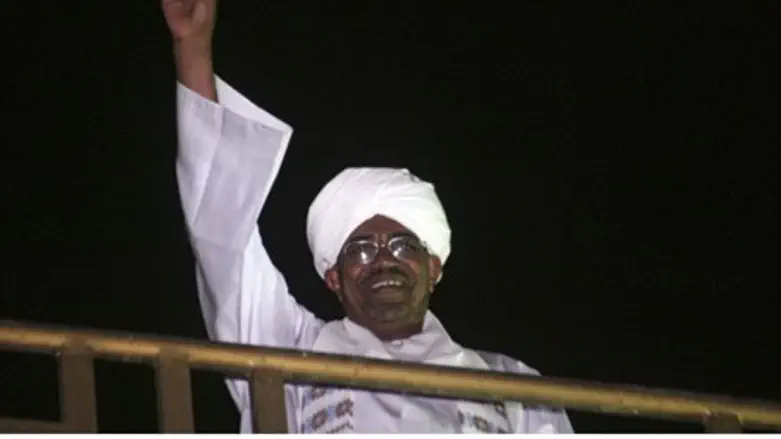 Omar al-Bashir
Reuters
Sudanese President Omar al-Bashir appeared on television Thursday after a minor operation, calling Israel "enemy number one" in a return to his typical fiery rhetoric.
AFP said he was "tired but healthy-looking."
Bashir, 68, spoke standing at a lectern for about 15 minutes in what government-owned Blue Nile TV said was a broadcast recorded earlier in the day at Sudan's embassy in Riyadh, Saudi Arabia.
The president left hospital in the Saudi kingdom on Wednesday and was recovering there after a "successful small surgery," his second in less than four months. The operation followed a normal medical check connected to an infection in his vocal cords, official media reported.
"Israel is our enemy, our number one enemy, and we will continue calling Israel our enemy," he said in a voice which sounded normal, according to AFP.
The comments were his first about Israel since Khartoum accused the Jewish state of sending four radar-evading aircraft to strike the Yarmouk military factory in the heart of Khartoum at midnight on October 23.
Israel refused all comment on Khartoum's accusation.
But Israeli officials have expressed concern about arms smuggling through Sudan and have long accused Sudan of serving as a support base for terrorists of the Islamist Hamas movement which rules Gaza.
"After the Yarmouk incident many people were angry and asked, 'Why did this happen?', said Bashir, who smiled occasionally during his address.
To prevent another attack Sudan has two choices, he said. One is to normalize relations with Israel, something he vowed would never happen.
"The second choice is to have a technology that allows us to do an identical attack against Israel. I cannot say this is impossible. We are trying to have this technology."