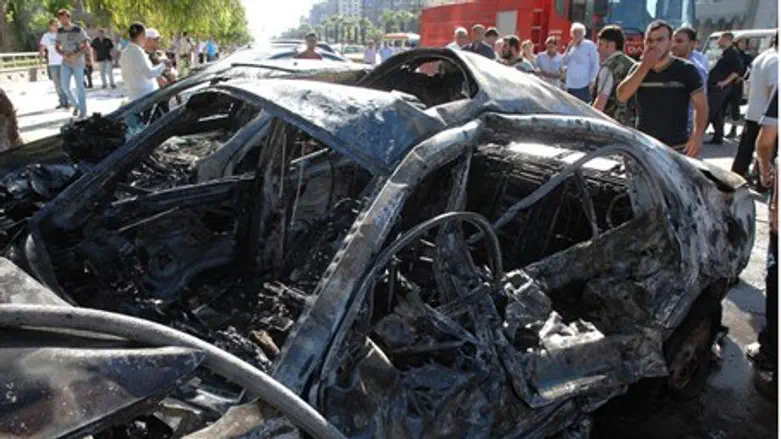 destroyed car (illustration)
AFP photo
Two vehicles were set fire Wednesday night in the French Hill neighborhood of Jerusalem. Police said that all evidence points to "nationalistic motives" in the incident. Police have opened an investigation and are pursuing numerous leads.
The cars were badly damaged. There were no injuries in the attack. Police have established that arsonists threw flammable material at the vehicles and them set them on fire.
French Hill is a mostly Jewish neighborhood in the northeast part of Jerusalem, and is home to many students from the nearby Hebrew University campus, who rent apartments in the neighborhood. In recent years, several Arab families have bought homes in the neighborhood, often to the chagrin of residents, who fear that that even if the homeowners are law-abiding, Arab terrorists from nearby villages could use the French Hill Arab residents' as a "cover" to get into the neighborhood and carry out terror attacks.
The arson attack joined other recent instances of Arab rioting and vandalism. On Tuesday, a Border Guard officer was stabbed by an Arab in the village of Shuafat in eastern Jerusalem. Arabs began rioting and throwing stones at a Border Guard patrol. Police brought in reinforcements in an attempt to quell the riot. Eight Israeli officers were injured in the melee. The officer who suffered the stabbing wounds was in moderate condition after treatment in a Jerusalem hospital.