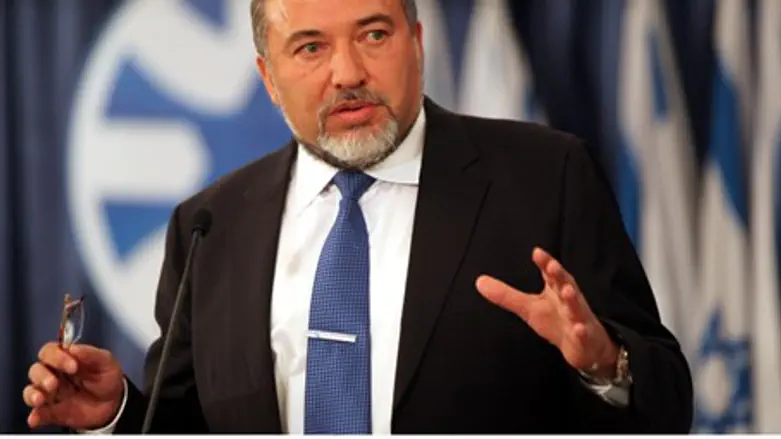 Foreign MInister Avigdor Lieberman
Israel news photo: Flash 90
As the PA is apparently gearing up to once again demand that the United Nations recognize its bid for statehood, Israel is again preparing to marshal its resources to prevent that recognition from taking place, sources in the government and Foreign Ministry were quoted as saying. But, the sources said, Israel was working to ensure that this is the last time the PA ties to bypass the Oslo Accords and appeal directly to the UN.
A report on Channel 10 Tuesday said that Foreign Minister Avigdor Lieberman intends to aggressively oppose the latest PA statehood bid, when the PA approaches the Security Council with a request for recognition later this month. Speaking to the AFP news agency, Foreign Ministry spokesperson Yigal Palmor was quoted as saying that "Foreign Minister Avigdor Lieberman convened Israel's 27 ambassadors in Europe for an urgent meeting this week in Vienna. The ambassadors will seek to define a diplomatic course with the Europeans intended to counter this initiative and to this end Lieberman will go to Vienna."
PA chief Mahmud Abbas has said he will table the resolution later this month, on either November 15 or 29, according to officials. Such a move is likely to be voted through easily, requiring only a simple majority in the 193-member General Assembly, as it was last year. However, the resolution must then be approved by the Security Council, which rejected it last year.
In the hope of preventing the PA's bid from turning into an annual event, Channel 10 said, Israel plans to aggressively oppose it. Channel 10 reported Monday that Lieberman had cautioned EU foreign policy chief Catherine Ashton that the Jewish state would respond harshly to such a bid, and that she should use her good offices to talk Abbas out of the bid. The continued attempts to seek statehood recognition, completely bypassing the Oslo process that the PA is supposed to be committed to, is unacceptable, and Israel will refuse to accept this kind of behavior by the PA, Lieberman was quoted as saying.
A spokesperson for Lieberman would not confirm the report or the comments attributed to the Foreign Minister.