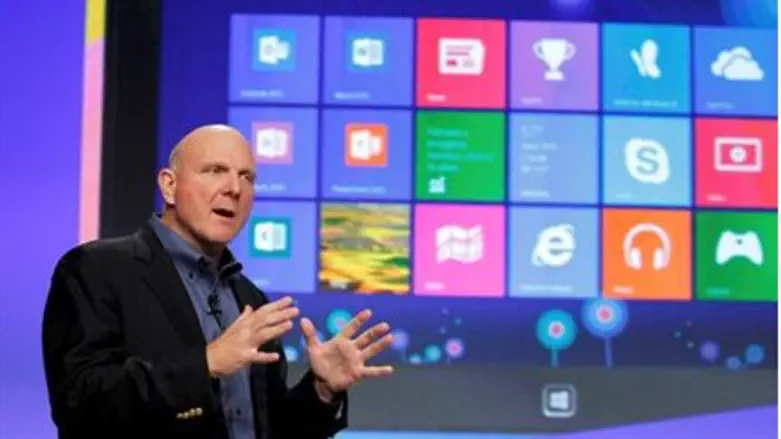 Microsoft CEO Steve Ballmer speaks at the lau
Reuters
Microsoft director Steve Ballmer met with Prime Minister Binyamin Netanyahu Monday on his fourth trip to Israel, this time to discuss cooperation on cloud technology.
They discussed Microsoft's commitment to Israel, its vast investments in the local market and the impact it is having, driving economic growth through national level activity and programs focused on innovation economy, employability and education, the office of the Prime Minister said.
"The combination of the State of Israel and Microsoft is natural since the Israeli high-tech industry is among the world's leaders. Microsoft was wise enough to see its potential many years ago and to benefit from the quality personnel in Israel," said Prime Minister Netanyahu.
Ballmer stated, "This is my fourth visit to Israel, and I am always excited and inspired by the sheer technological ingenuity of its people and entrepreneurs, a key reason why it's such an important market for Microsoft. Since the early 90's we have made significant investments in localizing products in Hebrew, providing support and investment for various Israeli companies and partners and, of course, growing our strategic R&D presence."
Minister of Finance Yuval Steinitz discussed with Ballmer strategic cooperation for promoting computing technology to boost Israel's economic growth.
The government and Microsoft are to sign a new memorandum of understanding for exchanging information, know-how and the development of joint infrastructures for encouraging investment in information technology.
Steinitz said, "These investments generate mutual profits: the Israeli government benefits from global know-how and proximity to foreign target markets; and the global companies benefit from the human capital and relative advantage of Israel's high-tech industries."
Ballmer was Microsoft founder Bill Gates' first business manager, hired in 1980.