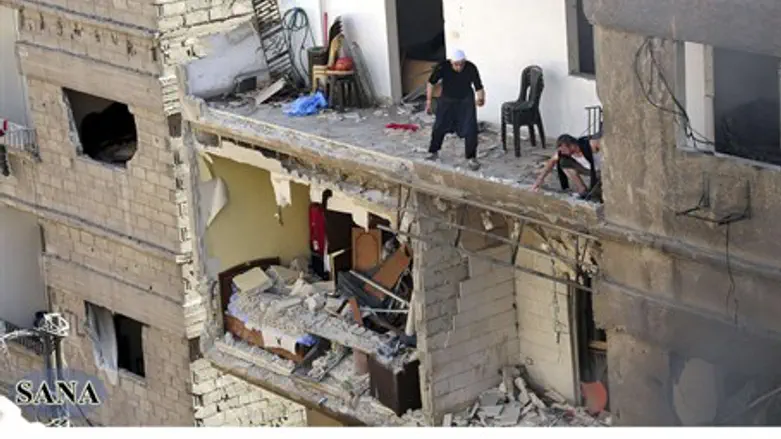 Wreckage from Damascus car bomb
Reuters / SANA
At least ten people were killed and 41 others were wounded Monday in a car bombing on the outskirts of the Syrian capital of Damascus. The blast blew apart pieces of surrounding buildings in the Christian and Druze suburb of Jaramana.  
Syrian state television said a "terrorist car bomb" was responsible for the deaths, which included women and children, near a bakery in the southeastern district controlled by loyalists fighting for President Bashar al-Assad. 
The attack came in between fierce air strikes against the area by Syrian government warplanes determined to erase rebel targets in the capital. Chunks of concrete and other building materials dropped from surrounding balconies on to cars parked in the residential area of the attack.
A similar car bombing killed 15 people in Damascus on Friday, state media reported.
The UK-based Syrian Observatory for Human Rights said at least six air raids were carried out on Damascus suburbs on Monday alone. It was to be the fourth and final day of a  "ceasefire" between government troops and opposition fighters in observance of the Eid al-Adha Muslim holiday. But the so-called "truce" was violated nearly from the moment it was declared, a cynical prediction that had been made to media by officers from both sides at the start.
On Sunday, at least 150 people were killed, according to activists who said that some 35,000 people have died since the civil war broke out in March 2011.
United Nations Secretary-General Ban Ki-moon expressed his "deep disappointment" that the ceasefire had not held. "This crisis cannot be solved with more weapons and bloodshed," Ban told reporters at a news conference in South Korea. "I remain committed to doing all I can to make this happen. As long as the international community remains at odds, the needs, attacks and suffering will only grow."