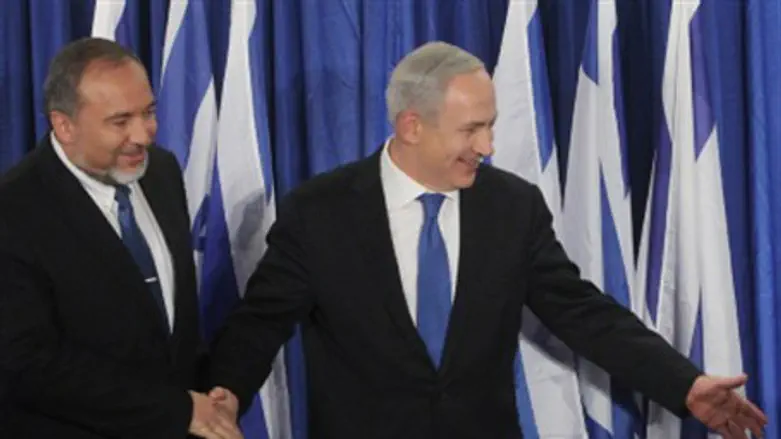 Netanyahu and Lieberman
Israel news photo: Flash 90
Two out of the three latest polls published in Israel provide encouraging predictions for Binyamin Netanyahu and make it more likely that his party will ratify the merger with Yisrael Beytenu later on Monday.
The newest poll, a Teleseker survey conducted for Maariv, gives "Likud Beytenu," as the combined party has been dubbed, 43 Knesset seats – one more than the two parties currently share between them.
Were elections held today, Netanyahu would have an easy time forming the next government, Maariv wrote.
The poll gives Shas 10 seats and a unified religious Zionist party 8 seats. Together with United Torah Judaism, the so-called "nationalist bloc" has 67 seats, giving it a comfortable majority (by Israeli standards) and enabling Netanyahu to co-opt Yair Lapid's Yesh Atid (Future) party into the coalition without having to pay an exorbitant political price.
It appears most pundits currently count Shas in the nationalist camp, despite nationalist concerns that with the return of Aryeh Deri to that party's leadership, it will take a leftward turn.
A Channel 2 poll gave Likud Beytenu 42 seats, but a Channel 10 poll gave the united party only 35 seats.