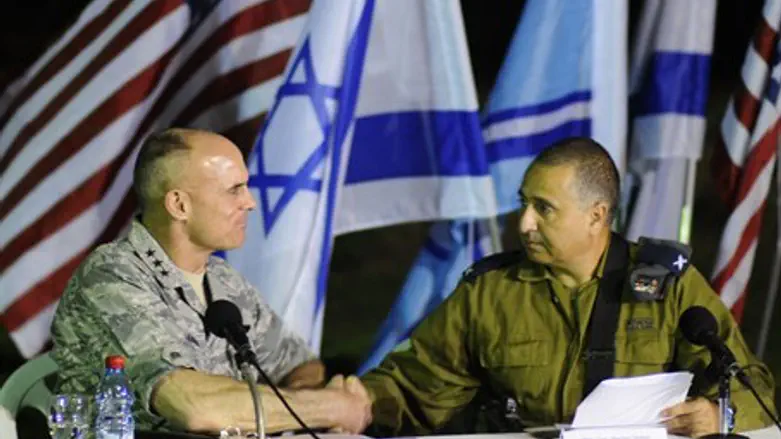 U.S., Israeli commanders
IDF Website
Leaders of the IDF and the U.S. Armed Forces held a press conference at week's end in honor of this week's beginning of Austere Challenge 12 (AC 12), the largest combined exercise held between the two militaries to date.
Yair Barzilai and Adam May reported in the IDF Website that U.S. Third Air Force Commander Lt. Gen. Craig Franklin and IAF Air Defense Head Brig. Gen. Shachar Shochat addressed the press conference, discussing the aerial defense drill and the cooperation between the militaries.
"More than 1,000 U.S. troops, including a Patriot missile battery and an Aegis missile defense ship, are integrated with other U.S. and Israeli assets as part of an overall comprehensive missile defense network for this exercise," explained Lt. Gen. Franklin.
"AC 12 is promising to be a great success. I expect that we will meet all of the training objectives for everyone involved. The command post exercise will begin this week and will be followed by a series of smaller cooperative drills that will conclude approximately three weeks from now."
Lt. Gen. Franklin also explained that the purpose of the drill "is to test and hone our combined abilities to defend against missile attacks, as we seek to maintain peace through preparedness."
Brig. Gen. Shochat said that "Together with the United States, we have the world's best, most state-of-the-art air defense system."
"It is the obligation of any country to protect its homes and residents from assault – this is what we are practicing, side by side with our American colleagues," he continued. "This exercise aims to improve the interactions between the IDF and the US military, enhance inter-operability, and strengthen the strong relationship we already share."
He added that "when you see two professional armed forces such as the U.S. and IAF air defense forces working together, practicing together, of course it is also a message of deterrence, and I hope the other side also understands it like that."