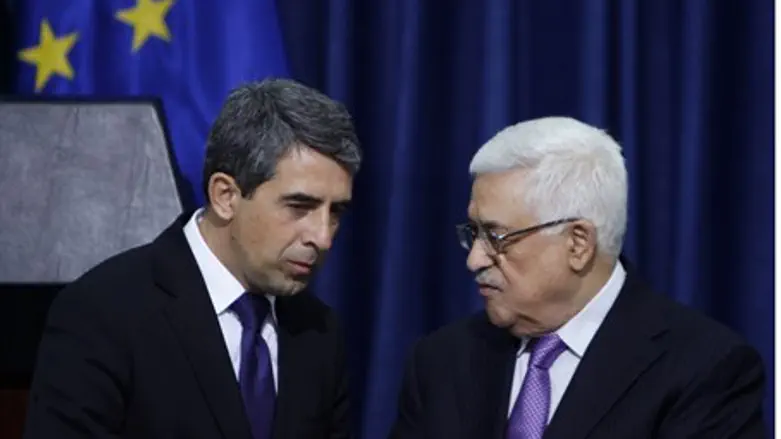 PA Chairman Mahmoud Abbas and Bulgaria's Pres
Reuters
Palestinian Authority Chairman Mahmoud Abbas said on Wednesday that talks with Israel can resume after the PA gains non-member status in the United Nations, the PA-based WAFA news agency reported.
Speaking during a joint press conference with visiting Bulgarian President Rosen Plevneliev, Abbas said the two discussed the political process. Taking advantage of the opportunity to criticize Israel, he said the discussed with the Bulgarian President what he termed "the deadlock that is facing the peace process due to Israeli settlement policy, its rejection of the two-state solution and the practices to change the character and identity of east Jerusalem and takeover its land."
Abbas also reiterated previous statements and said that becoming a non-member in the UN is not an alternative to the peace process and negotiations.
"Going to the UN is not an alternative to the negotiations," he said, according to WAFA. "We are ready to return to negotiations immediately after we return from the UN."
However, the PA Chairman has repeatedly rejected Israeli calls to resume negotiations and has continuously tried to impose preconditions on talks.
Abbas said ten PA delegations and the UN mission are working on the resolution that will be submitted to the UN in November.
He said the resolution will state that the borders of the Palestinian state will be the indefensible pre-1967 borders and that it will call for return to negotiations from the point where they stopped, adding that the talks with Israel will focus on the permanent status issues.
Answering a question about whether or not his country will support the PA's UN bid, Plevneliev said he has not yet seen the resolution, but that once it is ready it will be discussed among European Union member states to take a common position regarding it.
He said his country hopes negotiations with Israel will resume as soon as possible and that they will be based on international resolutions.
Abbas formally announced in September that the PA would ask the General Assembly to grant it "super-observer" status that could give it access to UN institutions and agencies.
The announcement, made in his address to the General Assembly, came a year after Abbas asked the Security Council to grant the PA full member status. That bid has failed due to a lack of support in the 15-member Security Council.