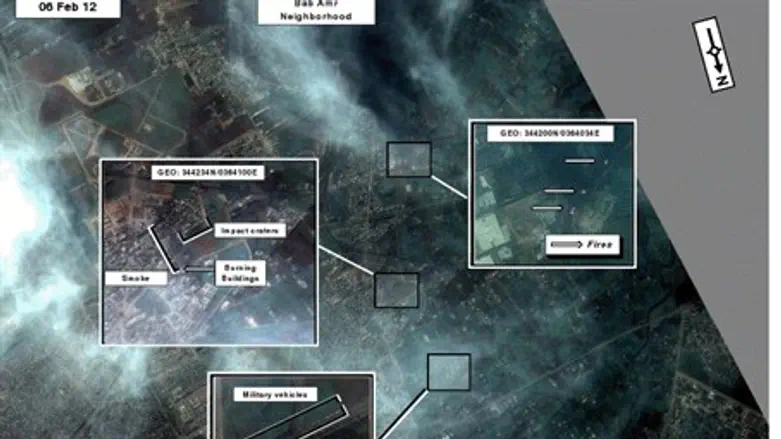 Satellite image of the Syrian gov't attack on
courtesy of US State Dept
The Syrian government and "most" rebel leaders have reportedly accepted a truce brokered by United Nations envoy Lakhdar Brahimi.
The ceasefire, which reportedly is to be in effect during this week's Muslim Eid al-Adha holiday, has not yet been signed, however. Syrian Army leaders are "studying the proposal," they said, and indicated they would announce a final decision Thursday – on the eve of the holiday.
"The army command is studying the cessation of military operations during the Eid holiday, and the final decision will be taken tomorrow (Thursday)," the government said in a statement issued by its foreign ministry.
The Free Syrian Army (FSA), which is the main opposition force fighting against loyalist soldiers who back President Bashar al-Assad, agreed to ceasefire, providing Assad's soldiers stop shooting first.
"The FSA will stop firing if the regime stops," its military council chief General Mustafa al-Sheikh told the AFP news agency by telephone from Turkey. But, he added with cynicism, the "regime has lied many times before. It is impossible that the regime will implement the truce, even if it says it will."
The ceasefire is to remain in effect for the duration of the four-day holiday, beginning Friday, Brahimi told reporters in Cairo on Wednesday.
If the ceasefire actually holds, U.N. peacekeeping chief Herve Ladsous had announced plans earlier in the week to assemble a force, and would be "ready to act if it is necssary and a mandate is approved."