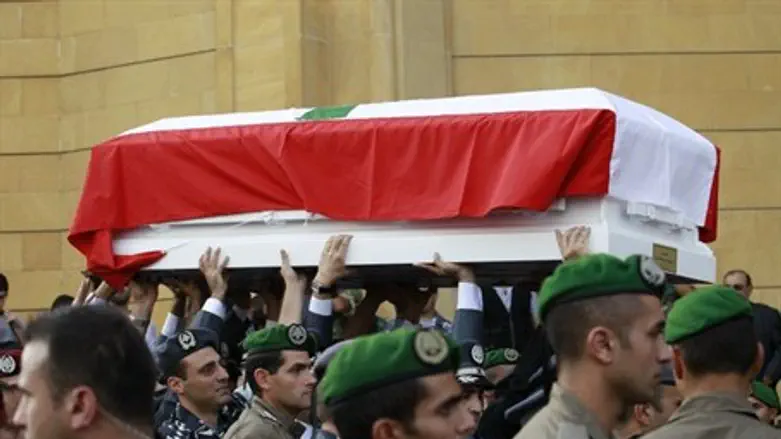 The coffins of Wissam al-Hassan and his bodyg
AFP/File
The United States will send a Federal Bureau of Investigation team to help Lebanon probe the Beirut car bombing that killed the country's internal security chief, officials said Monday, according to AFP.
"There is going to be an FBI team headed to Lebanon to help them with their investigation. But we'll certainly wait for the results of that investigation" before deciding any further response, State Department spokesman Mark Toner told reporters.
Toner added that Secretary of State Hillary Clinton stressed Washington's support for Lebanon's sovereignty, in a phone call with Prime Minister Najib Mikati.
Describing Clinton's conversation with Mikati, he said "she was very, very clear in stressing our support for Lebanon's sovereignty" and also "stressed the importance of all political leaders working together."
Toner did not say whether the FBI team had already arrived in Lebanon, where there have been violent protests since Friday, when police intelligence chief General Wissam al-Hassan died in the Beirut bombing.
"It's a very sensitive time," he added, saying, "There's an investigation under way, and we're going to look to the results of that investigation. And we also would urge calm."
On Friday, the United States condemned the blast as a terrorist strike. On Sunday, Clinton underscored "the United States' firm commitment to Lebanon's stability, independence, sovereignty and security."
Hassan's funeral on Sunday had been billed as a protest against Syrian meddling in Lebanon, but quickly turned into anger at Mikati, whose government is dominated by pro-Syria parties.
Despite calls for him to quit, Mikati said he would stay on at President Michel Sleiman's request to avoid a "political vacuum" in volatile Lebanon.
The opposition has widely blamed Syrian President Bashar al-Assad for Friday's attack, as it did in 2005 when former premier Rafiq Hariri was killed in a huge Beirut blast.
Hizbullah terrorists were believed to be responsible for the operational portion of the attack. The Shi'ite Muslim terror organization, which has representatives in the Lebanese government, is generously backed by both Iran and by the Assad regime.