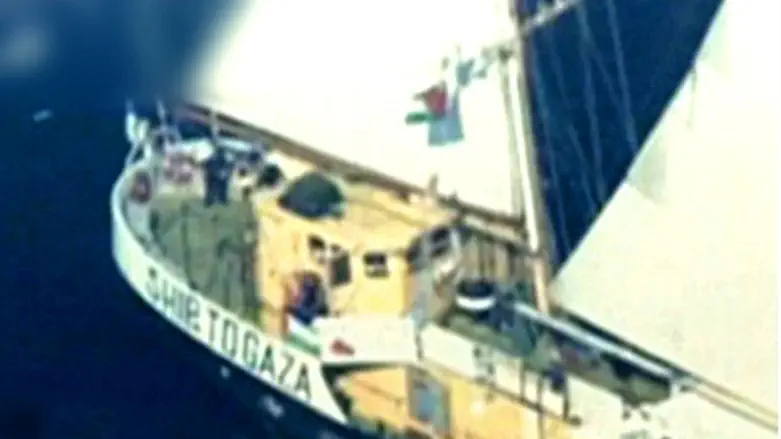 The Estelle
IDF Spokesman
The IDF has confirmed that there was no humanitarian aid whatsoever on the Estelle, the boat which sought to break Israel's naval blockade on Gaza.
Earlier on Saturday, Israeli troops boarded the boat, which was carrying 17 passengers, among them five parliamentarians from Europe and a former Canadian lawmaker. The IDF said the boarding was carried out only after "numerous calls to the passengers onboard" which went unanswered.
After the IDF takeover of the boat, which concluded peacefully, it was taken to the Ashdod port, where it was inspected by Israeli officials and found to be carrying no humanitarian aid meant for Gazans, as its passengers had claimed.
A Defense Ministry official quoted by Channel 2 News on Saturday night called the participants of the latest Gaza flotilla "provocateurs motivated by hatred of Israel" and said that "their goal is not to provide humanitarian aid, but to discredit the country." The official clarified that "all kinds of products and goods, except for weapons and other materials that may be used to harm Israeli citizens, are permitted to enter Gaza."
The IDF also responded to the claim made by the leftist activists on board the Estelle that the Israeli blockade of Gaza violates international law by saying, "This policy was approved in a UN report after the Mavi Marmara incident, and it includes Israel's right to act at sea to prevent the smuggling of weapons to terrorist organizations, as has already happened in the past."
Prime Minister Binyamin Netanyahu praised the IDF on Saturday for its interception of the Estelle and said, "Even the people who were on the ship know that there is no humanitarian crisis in Gaza. Their entire objective was to create a provocation and blacken Israel's name."
He added, "If human rights were really important to these activists, they would sail to Syria. We will continue to take strong and determined action to defend our borders."