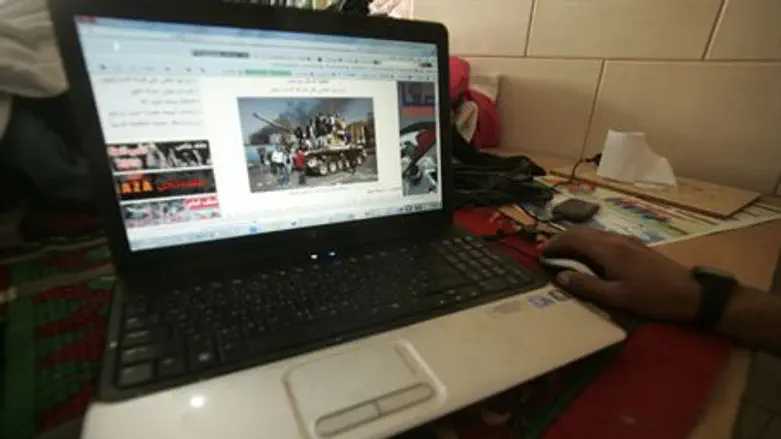 Computer (illustrative)
Flash 90
A day after saying it blocked a neo-Nazi account in Germany in a global first, Twitter on Friday agreed to remove anti-Semitic posts in France, a lawyer said, according to AFP.
The company did not immediately confirm the move, but the lawyer for a French Jewish student union said that after it threatened legal action, Twitter agreed to take down many of the offending tweets that have recently flooded the site.
UEJF lawyer Stephane Lilti said after a meeting with Twitter's lawyer in France that his client had scored an "important victory" over the micro-blogging site.
The student union on Thursday threatened to seek an injunction against Twitter to try to make it remove the offending tweets which proliferated in France with the hashtag #unbonjuif (#AGoodJew).
The tag has been one of the top trending words on French-language tweets and is often followed by comments such as: "#AGoodJew is a dead Jew".
UEJF leader Jonathan Hayoun welcomed Twitter's "swift reaction in removing racist and anti-Semitic tweets that we had pointed out to them."
Earlier this week, anti-racist groups MRAP and SOS Racisme joined the CRIF, the umbrella group representing French Jewish communities, in denouncing the hateful messages and vowing to sue those sending anti-Semitic tweets.
MRAP said in a statement that Twitter should "take the appropriate measures" to end what it called a "flood of anti-Semitism" and said it was proposing to meet with executives from the firm.
The reported deal with Twitter comes a week after France's SPCJ Jewish security watchdog said anti-Semitic acts surged by 45 percent since the start of the year and were given new impetus by attacks by terrorist Mohamed Merah, who went on a shooting rampage in March in and around the southern city of Toulouse, killing a rabbi, three Jewish children and three French paratroopers before being shot dead in a police siege.
On Thursday, Twitter said it had blocked a neo-Nazi group's account at the request of German police.
The move was the first time that the U.S. firm had applied a policy known as "country-withheld content" which allows it to block an account at the request of state authorities.
(Arutz Sheva's North American Desk is keeping you updated until the start of Shabbat in New York. The time posted automatically on all Arutz Sheva articles, however, is Israeli time.)