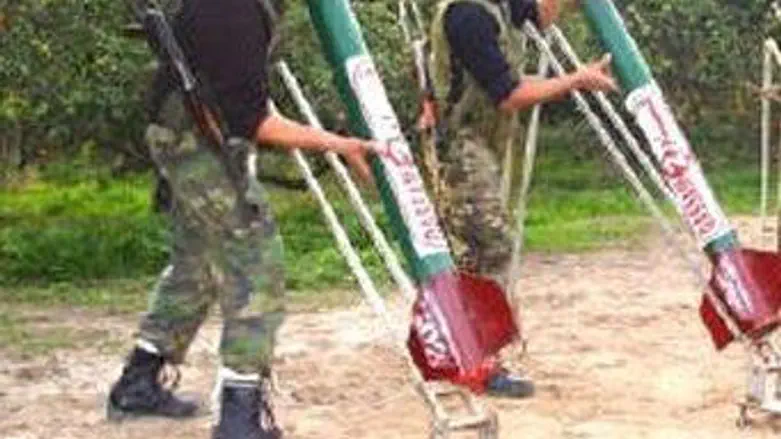 Kassam
Israel news photo: Flash 90
At a press conference with foreign journalists Thursday, Director General of the Ministry of Strategic Affairs Yossi Kuperwasser said that he believed that only foreign pressure on Hamas would put an end to the current round of rocket attacks by Gaza Arab terrorists against Israel. A major IDF campaign against Gaza would do little, if anything, to halt the ongoing daily rocket attacks against Israel, he told the journalists.
In 2012, Kuperwasser said, some 800 Kassam rockets, Grad missiles, and mortar shells had been fired at Israel – most of them by Islamic Jihad and its affiliate terror groups. Currently, Islamic Jihad is the main "supplier" of terror rocket attacks against Israel, he added.
When asked by a reporter what Israel whether he envisioned a new assault on Gaza to halt the attacks, Kuperwasser said that it was definitely an option, and the IDF could make a decision to attack if things got notably worse. However, he added, such a campaign would not really solve the problem, which had much deeper roots. "They are constantly being brainwashed to hate us, and this creates more and more terrorists." Such brainwashing, he said, was unlikely to be reversed by military means. In that sense, Arab terror, under current circumstances, is essentially inevitable.
Meanwhile, he said, terror groups in Gaza were getting more and better weapons, thanks to the fall of Muammar Qaddafi. Smuggling tunnels were still active, and Gaza Arab terrorists were bringing more weapons in than ever. Advanced weapons were being smuggled in from Libya, among them Sidewinder missiles, one of which was fired at Israel last weekend.
Hamas does not look favorably on the recent escalation, Kuperwasser said, fearing a major Israeli military response. "But they do not know how to stop Islamic Jihad," he said. As radically Islamic as Hamas is, Islamic Jihad and other groups have now surpassed them, and Hamas fears being seen as the "moderate," much as it sees Fatah in Judea and Samaria. "The radicals are getting stronger, and the atmosphere in Gaza is making the residents there even more radical." Hamas, he added, does not believe it can afford to confront these groups, fearing that it will be swept away by an "Arab Spring" scenario in Gaza if it tries.