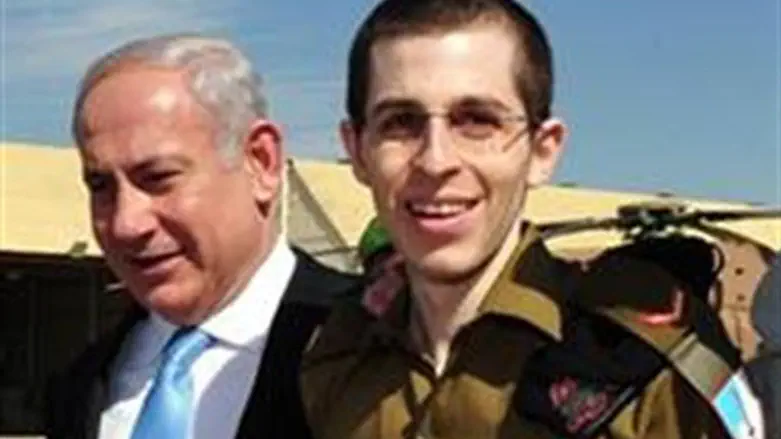 Shalit is not yet ready for the exposure Chan
Flash 90
An extensive interview given by Gilad Shalit to Channel 10, which is to be aired Wednesday night, is now being met with objections and complaints by both Gilad and his father Noam.

According to Noam, his son did not realize that the entire interview, that included informal chatting with the crew,  would be used for television production, something Gilad does not feel comfortable with at the moment.

"Although Gilad signed the waiver to allow producers to film him," said Noam, "he did not realize that it would be broadcast during prime time,"  adding that Gilad "feels he is not yet ready for this kind of exposure, and therefore was upset by the decision of the news channel to air the interview."

Noam also claims that his son did not realize that the informal parts of the conversation would also be included in the video.

Brief clips from the interview have already been aired by Channel 10, during which Gilad spoke about his five years in captivity, the moment he found out he was being released and his transition back to normal life. He spoke of fears that he would never be released, saying he was afraid "that I would be forgotten and there would be no one to talk to. That they would make me disappear, people wouldn't know where I was."

Noam also spoke of the delicate way the family handled Gilad's return and how proud he was that Gilad was able to achieve the transition back into society, saying, "We never asked him exactly what he experienced and we didn't push him. Gilad opens up only when he wants to, in a natural way. The more time that passed, the more puzzled we became trying to figure out how he managed to survive five years in captivity, but eventually he managed to get back to himself - he's writing a sports column, he's watching sports games, he's flying abroad and he's even looking into studying next year," said Noam.