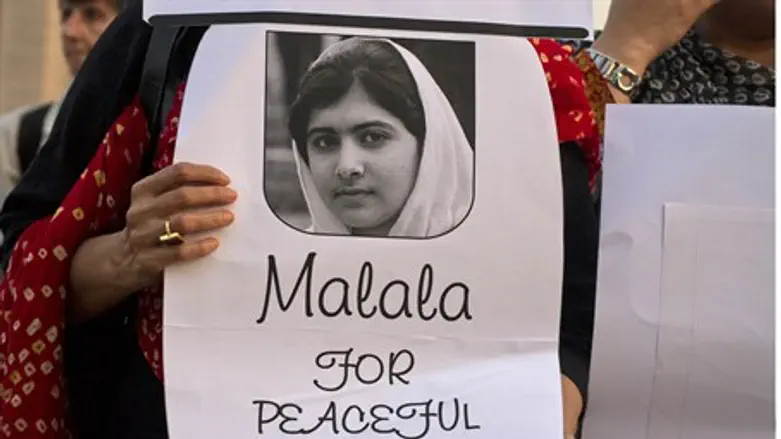 picture of Malala Yousufzai
Reuters
Thousands gathered at the Kennedy Center in downtown Washington, D.C. on Monday evening for an evening of inspiring music and testimonials about extraordinary acts of courage in confronting intolerance and extremism.
The 18th annual Concert Against Hate, sponsored by the Anti-Defamation League (ADL), honored Malala Yousafzai, the 14-year-old Pakistani girl who was shot in the head for defying the Taliban with her outspoken advocacy for female education; Irene Fogel Weiss, a Holocaust victim and Auschwitz survivor; Joan Trumpauer Mulholland, a Freedom Rider and civil rights icon; Officer Moira Ann Smith (posthumously), who saved hundreds of people at the World Trade Center; and Amardeep Singh Kaleka, the son of a victim of the Wisconsin Sikh Temple shooting on August 5, 2012. 
Each honoree presented with the ADL Ina and Shelley Kay Award for extraordinary acts of courage in confronting intolerance, injustice, extremism and terrorism.  Jeff Daniels, from HBO's "The Newsroom", and Madeleine Stowe, from ABC's "Revenge", narrated the awards portion of the concert, which featured performances by the National Symphony Orchestra.
National Director of the Anti-Defamation League (ADL), Abraham H. Foxman, called Yousafzai's confrontation with the forces of evil and intolerance "awe-inspiring, breathtaking and deeply tragic."  
"Malala Yousafzai was courageous in her determination to stand up to the forces of evil and extremism and to speak clearly for her conviction that women deserve better from a society and a system that has failed them in Pakistan," Foxman said. "For her convictions, Malala has paid a horrific price.  We hope and pray that next year, or the year after, we will be able to honor her at a future 'Concert Against Hate.'  Her struggle epitomizes the kind of bravery, personal courage and moral conviction that we look to in good people to stand up against hate."
Foxman asked the audience at the Kennedy Center to join together in silent prayer for Malala's recovery.  
He also praised those governments, including the United Arab Emirates, United Kingdom and the United States, who offered assistance in the aftermath of the shooting and assured that Malala would get appropriate medical care for her injuries and be permanently removed from harm in Pakistan, where Taliban leaders have put a price on her head.
"It is hard to fathom how anyone could aim a gun at the head of an innocent 14-year old girl in the name of a fundamentalist view of Islam," said Foxman.  "Yet if we learned anything from this experience, it is that the extremist views of the Taliban are rejected by some in the Arab world, and that there are responsible governments, including the United Arab Emirates, who are willing to step up and send a different message -- that extremism and terrorism in the name of fundamentalist Islam is completely unacceptable."