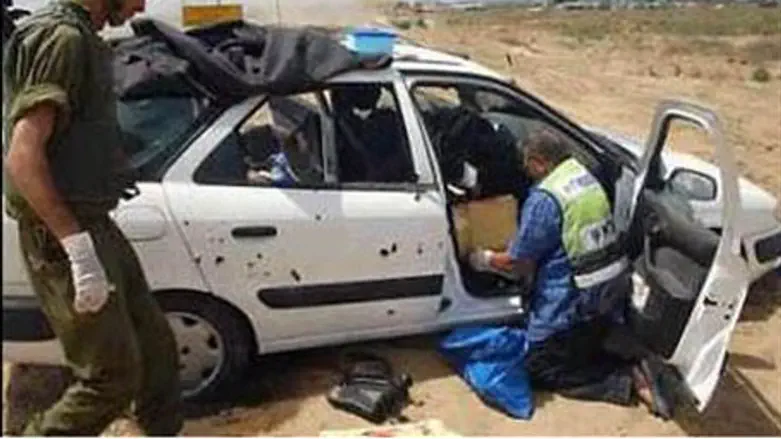 Car in which Gaza terrorists killed Tali Hatu
Israel news photo: One Family Fund
The advertising battle in the U.S. senatorial race - or war - has ventured into the territory of foreign policy, with a 30-second bit by a pro-Israel group criticizing Democrat Tammy Baldwin for voting against sanctions on Iran and accusing the Jewish state of war crimes.
The ad is paid for by Emergency Committee for Israel, which says that it will air hundreds of times across Wisconsin over the next two weeks, including the Green Bay Packers game on Sunday, reported the Milwaukee, Wisconsin Journal Sentinel online.
In a statement to the Journal Sentinel, the Emergency Committee for Israel's executive director, Noah Pollak, said:
"Throughout her career in the House of Representatives, Baldwin has been nothing less than hostile to the U.S.-Israel alliance. She has accused Israel of war crimes, befriended anti-Israel groups, refused to sign bipartisan letters of support for Israel …"
Meanwhile, the U.S. news site Politico reported:
The spot, which starts today, is on broadcast and cable in targeted markets, including Packers games.          
ECI executive director Noah Pollak said, "Over the past decade, Tammy Baldwin has established a foreign policy record of extremism. Yet now that she's running for Senate, she's attempting to obscure that record — in fact, her campaign website doesn't even include a foreign policy section. Since she doesn't want to tell the voters where she stands, we will."
The pro-Israel, conservative Emergency Committee for Israel is going up with a rough spot against Democratic Senate hopeful Tammy Baldwin in Wisconsin.
The spot dubs her "extreme," and weak on defense. The group says it's airing for about 10 days, with its biggest buy in any race this cycle, at $500,000.
Tammy Baldwin currently represents Wisconsin's 2nd Congressional District in the U.S. House. She is running against Republican candidate Tommy Thompson, who was governor of Wisconsin from 1987 to 2001 and U.S. Secretary of Health and Human Services from 2001 to 2005.