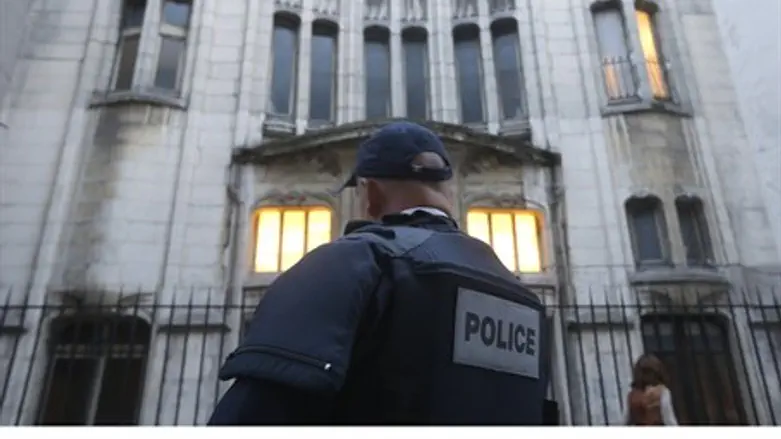 French police officer secures Paris synagogue
Reuters
French police have found bomb-making materials in the probe of an Islamist terror cell suspected of a carrying out a grenade attack on a kosher supermarket last month. The suspected leader of the cell, 33-year-old Jeremy-Louis Sidney, was shot and killed Saturday when police tried to arrest him in a dawn raid at his home in Strasbourg.
Police were led to Sidney, a convicted drug dealer who converted to Islam in prison, following forensic examination of the pin of a grenade thrown into the Naouri Sarcelles kosher grocery on September 19. Traces found on the pin suggested he had handled the grenade but Molins said prosecutors were not sure he was the one who threw it and said two men believed to have been directly involved in the attack may still be at large.
"It has not yet been established that the two individuals who carried out the attack by throwing the grenade into the grocery have been apprehended," he said.
Twelve members of the group are being held in custody, and Paris prosecutor Francois Molins has said their remand has been extended at least a day beyond the four-day maximum. The 12 alleged members of the cell, all under 30 and thought to have been born or brought up in France, are also being charged with planning other anti-Semitic attacks.
Wednesday's decision to continue to hold the suspects without charge beyond four days marks only the second time such an extension has been granted since France's current pre-charge detention system was adopted in 2006.   The French criminal code allows for suspects to be held without charge for up to six days in cases of a "serious risk of an imminent terrorist attack" in France or abroad.
"We are clearly and objectively facing an extremely dangerous terrorist cell," Molins said in a statement quoted by the AFP news agency. He added it was necessary to "avoid the risk of a terrorist attack in France," and said "components useful for bomb-making" were found during an overnight search by police. Molins also revealed that two men involved in the grenade attack which triggered the investigation may still be at large.
The materials were discovered in the eastern Paris suburb of Torcy, where two of the suspects had been arrested on Saturday, in a garage belonging to a suspect whose home had contained a list of Jewish groups in the Paris area.
Among the components found were bags of potassium nitrate, sulphur, saltpeter, pressure cookers and headlight bulbs – "all products or instruments useful in the making of what we call 'improvised explosives,'" Molins said. Police also discovered a shotgun and a handgun, he added.
According to Sammy Ghozlan, president of the National Bureau of Vigilance Against Anti-Semitic Acts (BNVCAA). Ghozlan, two attackers hurled a grenade into the supermarket, which exploded and caused a great deal of damage. Both had their faces covered, he said. One person was slightly wounded in the attack on the store, located in Sarcelles (Val d'Oise). The city, a suburb of some 60,000 residents, is located north of Paris and is home to a flourishing Jewish community. It is sometimes referred to as "little Jerusalem."
A list of Jewish organisations in the Paris area was found at one of the addresses where the bomb-making components were discovered.
Security has been stepped up at Jewish communities around the country since the attack.