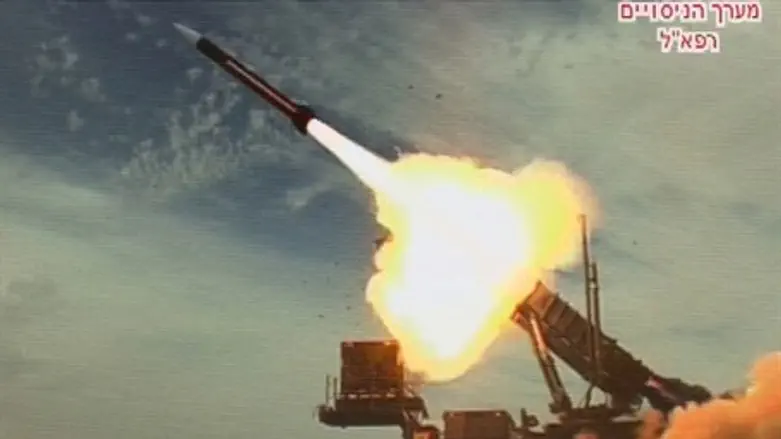 Patriot missile battery
IDF/Flash 90
A Patriot anti-missile battery has been installed in the north, atop Mt. Carmel near Haifa. However, according to the IDF Spokesperson's Unit, deployment of a Patriot battery "is not an unusual thing."
The system, operated by the IDF Air Defense Command, is capable of intercepting flying objects (balllistic missiles, aircraft and other threats) at ranges between 60 to 160 kilometers ( 37 to 99 miles). The Patriot system was used during the Gulf War to intercept missiles fired at Israel from Iraq.
Installation of the battery in the north came after the IDF shot down a UAV (unmanned aerial vehicle) that flew nearly the entire length of the country, albeit most of the way via the Mediterranean.
The small drone was shot down Saturday morning over an uninhabited area in the northern Negev Desert. Two Israeli F-16 fighter jets "escorted" the aircraft on its journey down the coast before destroying the aircraft.
It is widely assumed that the drone was transmitting photographs, and if it had continued on its easterly course from Gaza, it would have flown near, or directly over the Dimona nuclear reactor. Israeli officials have been concerned for some time that the facility could be vulnerable to an attack from Iran.
According to a report on the Beirut-based pan-Arab television station Al-Mayadeen, with links to the Hizbullah terrorist organization, Hizbullah was responsible for the drone's flagrant violation of Israeli air space. In a brief statement, the station said the drone managed "to penetrate 100 kilometers and raise tension in Israel." However, Hizbullah leader Hassan Nasrallah has not made an official comment on the incident.